Point Park gets swept at Fairmont State, falls out of NAIA Top 25 Poll
Sept. 10, 2013 at 11;15 p.m. ET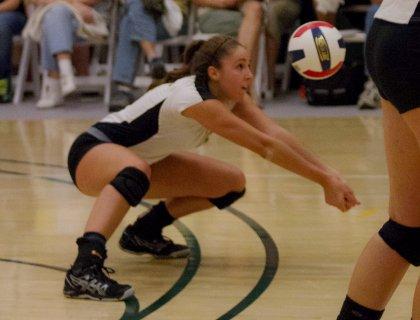 Shiloh Simonson tied for the team lead with 10 digs in the 3-0 loss at Fairmont St. Photo by Evan Schall.
By Zachary Weiss Point Park University Athletic Communications Student Assistant
FAIRMONT, W.Va. -- The Point Park University volleyball team began its week of road matches with a 3-0 loss at Fairmont State on Tuesday night.
Point Park (5-9, 1-2 KIAC) dropped the first set 25-22 despite an early lead against Fairmont State (4-1, 0-0 MEC). The second set was a similar story as again the Pioneers jumped out to a lead but lost the set by a 25-21 score. The Falcons closed things out with a 25-17 win in the third.
Point Park is now 0-4 on the road and faces six matches away from home this weekend as part of a KIAC road trip Sept. 12-14. The trip begins Sept. 12 at Cincinnati Christian.
Also on Tuesday the Pioneers dropped out of the NAIA Top 25 Poll after being ranked No. 22 in the preseason. In the first rankings of the regular season released, Point Park is in the 'others receiving votes section' with a 5-8 record entering Tuesday's match.
The Pioneers offense was kept in check at Fairmont State as Nikki Inquartano led the team with six kills while registering one of just two team blocks. Point Park also was held to a .149 attack percentage. Shiloh Simonson and Olivia Fisher tied for top honors with 10 digs. Simonson also had two of the team's four aces.
Point Park will head to the road once again Thursday and face KIAC foe Cincinnati Christian in the first of six conference matches this week.
Follow the Pioneers on Twitter @PointParkSports and @pointparkvb