Pioneers start KIAC trip with first road win of the season, 3-0, at CCU
Sept. 12, 2013 at 11:00 p.m. ET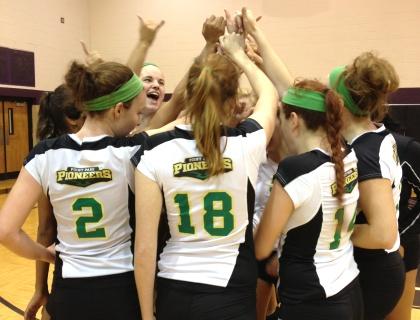 Point Park celebrates after its first road win of the year Thursday at CCU. Photo by Neal Brown.
CINCINNATI, Ohio -- The Point Park University volleyball team got its first road win of the season, 3-0, in a KIAC match at Cincinnati Christian on Thursday night. The 25-11, 25-15, 25-17 win came at the start of a three-day, KIAC road trip for the Pioneers, who improved to 6-9 overall and 2-2 KIAC.
Point Park's weekend trip continues Friday with KIAC matches versus Brescia (Ky.) and Berea (Ky.) at Berea College. Point Park and Brescia square off on the neutral court at 6 p.m. followed by Point Park at Berea at 8 p.m.
Point Park had been 0-4 in road matches entering Thursday, but it turned that around thanks to a season-best .312 attack percentage in the match. Point Park came out of the gates hitting a blistering .467 in the first set to rout CCU (1-4, 0-2 KIAC) by a score of 25-11.
The Pioneers also had a strong performance in the third set racking up 16 kills and a hitting percentage of .316. Shiloh Simonson had a team-high 12 kills, and Nicole Wurstle was also in double figures with 10. Wurstle had 10 kills and zero errors in 17 attempts to hit .588 for the match.
Setter Cara Bradley recorded 29 assists, five digs and four blocks. The middle hitter position got four kills and four blocks from Cristiane Chaves and three kills and five blocks from Nikki Inquartano. Olivia Fisher (13 digs) and Paige Baker (7) combined for 20 digs.
The Point Park at Berea match will have Live Video on the Berea College Sports Network as part of the KIAC Digital Network. Match time is 8 p.m. ET. WATCH LIVE
Point Park's KIAC, weekend road trip concludes Saturday with three matches at Asbury (Ky.) University, where they will play the host team and also St. Louis College of Pharmacy and Alice Lloyd (Ky.).
Follow the Pioneers on Twitter @PointParkSports and @PointParkVB