Point Park goes 6-0 on KIAC road trip after three more wins Saturday in KY
Sept. 14, 2013 at 11:30 p.m. ET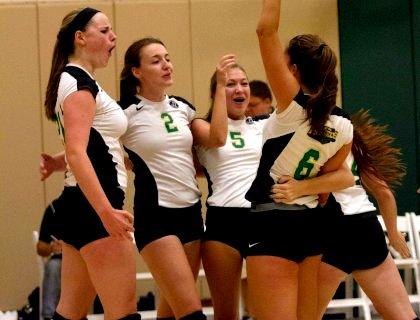 Point Park went 6-0 KIAC this weekend for the best record in the conference at 7-2. Photo by Evan Schall.
WILMORE, Ky. -- The Point Park University volleyball team made it a perfect 6-0 for its KIAC, weekend trip after picking up three more conference wins on Saturday. In a quad match at Asbury (Ky.), the Pioneers (11-9, 7-2 KIAC) beat host Asbury, St. Louis College of Pharmacy and Alice Lloyd (Ky.) all by a score of 3-0 to finish off the perfect weekend.
Point Park did not drop a set during its six-match road trip, which began Thursday at Cincinnati Christian and continued Friday with victories over Bresica (Ky.) and Berea (Ky.) at Berea.
The season-long win streak of six matches has vaulted the Pioneers above .500 at 11-9, and it has the Pioneers off to a strong record of 7-2 in the KIAC. Point Park played more than half of its 11 conference matches in a span of 48 hours this weekend and has just two KIAC matches left -- home to Midway (Ky.) and at Indiana Southeast.
Point Park had to battle for everyone point in the 3-0 win over Asbury (6-6, 0-1 KIAC). The Pioneers won that match, 25-22, 27-22, 25-23.
Similarly, Point Park battled to a 3-0 win over St. Louis College of Pharmacy (3-5, 2-2 KIAC) by scores of 25-15, 32-30, 26-24. Point Park had an easier time with Alice Lloyd (1-8, 0-4 KIAC) by scores of 25-10, 25-10, 25-12.
Nicole Wurstle had another outstanding day to make a really strong case for KIAC Player of the Week honors this week. She put up a total of 32 kills in the three matches Saturday including 11 versus Asbury and 13 versus St. Louis COP.
Versus Asbury, Point Park setter Cara Bradley totaled 36 assists and 11 digs. Shiloh Simonson added nine kills, Cristiane Chaves had five, and Chelsea Katkich and Roxanne Grundmeier had four each. Olivia Fisher led the backrow with 19 digs.
Simonson joined Wurstle in double figures with 10 kills and six digs versus St. Louis COP. Grundmeier added seven kills and three blocks while Chaves recorded five kills and six blocks. Bradley hand out 35 assists to go with seven digs.
Nikki Inquartano led the Pioneers with 11 kills versus Alice Lloyd. Grundmeier chipped in nine kills, and Wurstle had eight. Fisher's 15 digs were a team-best, and Barbara Andrade came in for some setting duties with 14 assists, three aces and four digs.
After the busy weekend, Point Park is off until next Saturday, Sept. 21 when the host California (Pa.) for a non-conference match in the Student Center Gym. Match time is 1 p.m. for the 6th annual "Volley for Vision", which raises money and awareness for the Vision Research ROPARD Fund.
Follow the Pioneers on Twitter @PointParkSports and Facebook.com/PointParkAthletics