Point Park drops Volley for Vision match, 3-1, at home to NCAA DII California (Pa.)
Sept. 21, 2013 at 7:50 p.m. ET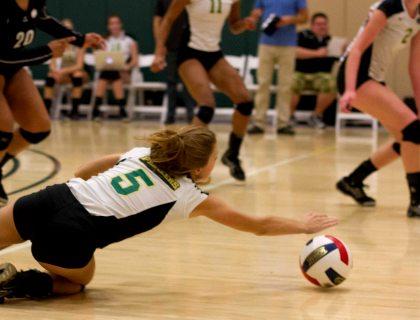 An attack by California (Pa.) goes down for a kill in front of Point Park's Dana Fitzgerald. Photo by Evan Schall.
BOX SCORE, HIGHLIGHTS (via YouTube)
By Zachary Weiss Point Park University Athletic Communications Student Assistant
PITTSBURGH – The Point Park University volleyball team saw its six-match winning streak come to an end with a 3-1 defeat against non-conference foe California (Pa.) University on Saturday at the Student Center Gym.
California (Pa.) (6-3, 0-0 PSAC), an NCAA Division II, local power, won a close match by scores of 25-23, 25-20, 23-25, 25-19 over Point Park (11-10, 7-2 KIAC).
The Pioneers attempted to set the tone in the first set, but when they would pull ahead, the Vulcans would respond. After a very tight opening set, California would win 25-23 to take a 1-0 lead in the match.
It was a similar story in the second set. Point Park dropped a few early points, however, Pioneer coaches Mike Bruno, Neal Brown and Kellen Petrone made sure their players were still in the match and cheering on their teammates. Things were heated in the early stages, but the Vulcans were able to close the set out by a 25-20 margin.
The Pioneers went into the third set down, 2-0, and knew that it was do or die. Almost every rally was highly contested and the teams were trading points. Point Park had their issues in the first two sets trying to stay ahead of California, however this time it was able to hang on to win 25-23 to stay in the match.
The fourth set saw Point Park race out to a 5-2 lead, however the Vulcans were able to take control with an 18-13 lead, forcing a Pioneer timeout. Coach Bruno's message appeared to work in the short term as the Pioneers cut the lead to 18-15, but a side out and an ace by California gave the visitors a 20-15 lead and sent them on their way to a clinching set, 25-19.
The Point Park offense struggled as its attack percentage was .026. Outside hitter Shiloh Simonson took top team honors with eight kills. Setter Cara Bradley had 24 assists, and libero Olivia Fisher led the team with 14 digs.
The day was not all about volleyball as it was the Sixth Annual Volley for Vision hosted by Point Park with proceeds benefitting the Vision Research ROPARD Foundation (VRRF).
Those in attendance had the opportunity to win seven raffle items by Chinese Auction. Shailen Abram from the Western Pennsylvania School for Blind Children performed the National Anthem before the match.
In six years, the event has raised more than $20,000 for ROPARD. For a final tally of the proceeds from this year's event, follow @PointParkSports on Twitter for updates.
The Pioneers will next play Tuesday at home against Slippery Rock. The match is at 7 p.m. in the Student Center Gym.
Follow the Pioneers on Twitter @PointParkSports and @pointparkvb