Point Park wins in five sets over Slippery Rock at home, 3-2
Sept. 24, 2013 at 11:59 p.m. ET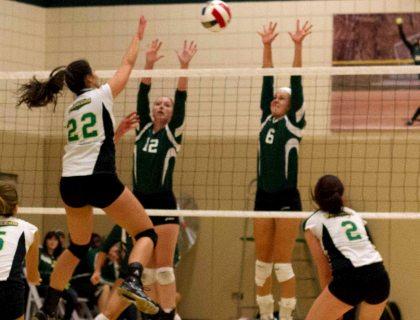 Cristiane Chaves (22) puts down one of her six kills against the Slippery Rock defense. Photo by Evan Schall.
By Zachary Weiss Athletic Communications Student Assistant

PITTSBURGH --- For the first time in five tries, the Point Park University volleyball team was able to win a five-set match defeating Slippery Rock University, 3-2, at home Tuesday in a non-conference match at the Student Center Gym.

The win came against an NCAA Division II school in front of the crowd of 275 in attendance. It also stopped a trend that had the Pioneers (12-10, 7-2 KIAC) with a record of 0-4 in previous matches that went five sets this year.
The first set was back and forth, and the score was tied at 11 before Slippery Rock (5-8, 0-0 PSAC-W) won four points in a row to seize control. They would go on to take the set 25-20.
In the second set, Point Park frustrated Slippery Rock into various mistakes and communication breakdowns while taking the set in close fashion, 25-21.

The third set saw the Pioneers use a different strategy bringing in Nikki Inquartano to serve key points to take a big lead. The move paid dividends as Inquartano, who is not usually a server, would serve 11 points in the set, including seven in a row to stake the Pioneers to a 13-6 edge.

This momentum, coupled with consistent defense and teamwork, allowed Point Park to take the set, 25-17.

With its back against the wall, Slippery Rock won a tight fourth set, 25-22. The set included an ace that gave Slippery Rock a key cushion late.

In the fifth set, Slippery Rock took an early lead of 3-0, but Point Park came back and tied it. A tie score proved to be a common occurrence in the set. Although SRU had a lead of 8-6 at the change over, things were tied up at 9-9, 10-10, 12-12 and 13-13.

Point Park got a key point to build a 14-13 lead, and it was a kill by Roxanne Grundmeier that ended the match and clinched the Point Park victory.
Several Point Park players had big matches with setter Cara Bradley having a strong, all-around game. She totaled 39 assists, 11 digs, eight kills and seven blocks. Inquartano added five kills, nine blocks and three aces. 
The defense got a lot of production from Paige Baker with 24 digs, Dana Fitzgerald with 16 and Olivia Fisher with 15.
Shiloh Simonson and Roxanne Grundmeier tied for team-high honors in kills with 11 each, and Simonson added eight digs. Nicole Wurstle chipped in eight kills and two blocks while Cristiane Chaves collected six kills and four blocks.

 Point Park will next play at home Sunday at 8 a.m. in a conference match against Midway (Ky).

 Follow the Pioneers on Twitter @PointParkSports and @pointparkvb