Point Park maintains strong KIAC record with conference sweep of Midway (Ky.)
Sept. 29, 2013 at 10:30 p.m. ET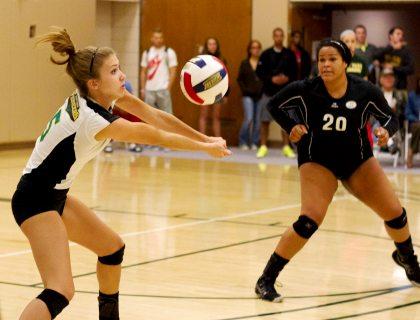 Dana Fitzgerald (left), Olivia Fisher (20) and the Pioneers are 8-2 KIAC with the win over Midway. Photo by Evan Schall.
By Zachary Weiss Point Park Athletic Communications Assistant
PITTSBURGH – The Point Park University volleyball team woke up early and took care of business defeating KIAC foe Midway by a 3-0 score on Sunday morning at the Student Center Gym. The match started at 8 a.m.
Point Park (13-10, 8-2 KIAC) controlled the tempo of the first set opening with a 9-0 lead. With a few loyal supporters on hand, the Pioneers picked themselves up vocally. Point Park was able to close out the set to win 25-10.
Point Park had some struggles and communication errors in the second set; however, the mistakes were less than that of the Eagles. Midway (5-10, 1-4 KIAC) continued its struggles defending the Pioneers' attacks as Point Park took the set, 25-16.
In the third set, the Pioneers had an extended serve from Kelsey Veydt who was substituted in. The serve drew Point Park closer to victory and led to a 25-9 final set.
Shiloh Simonson led the team with 10 kills in the match with Cristiane Chaves and Roxanne Grundmeier registering seven kills apiece for the Pioneers. Setter Cara Bradley dished out 28 assists, while Grundmeier had five of the 13 Point Park aces in the match. Grundmeier and libero Olivia Fisher each had six digs.
The Pioneers maintained their conference lead at 8-2 and have just one KIAC match remaining. With much of the conference still having several KIAC matches left on their schedules, Point Park has only an Oct. 19 match at IU Southeast remaining.
The Pioneers have some time off before traveling to Florida for the Clearwater Christian Tournament for their next matches Oct. 11-12.
Follow the Pioneers on Twitter @PointParkSports and @pointparkvb