Point Park wins first two matches of Clearwater (Fla.) Christian Invitational
Oct. 11, 2013 at 11:30 p.m. ET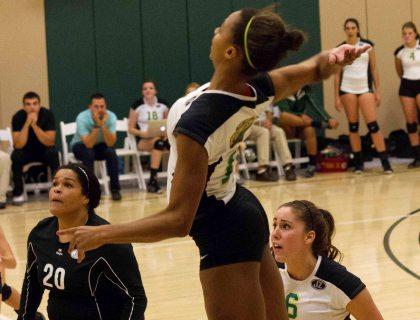 Roxanne Grundmeier led the Pioneers in kills in both matches on Friday. Photo by Evan Schall.
By Zachary Weiss Point Park University Athletic Communications Student Assistant
CLEARWATER, FLA—The Point Park University volleyball team is in Florida for a seventh consecutive year competing at the Clearwater (Fla.) Christian Invitational, and the Pioneers came away with two wins on the first day of the event Friday.
Playing for the first time since September 29, Point Park (15-10, 8-2 KIAC) defeated Florida College (19-6), 3-2, and beat Pensacola Christian (15-5), 3-0
Versus Florida College, the Pioneers dropped the first set, 25-21, and needed an extra point to even the match after a 26-24 win in the second set. Point Park would take the third set, 25-22, before dropping the fourth by a 25-17 score. That set up the sixth five-set match of the season for Point Park, and the Pioneers came out on top, 15-11.
Point Park received contributions from many different players. Setter Cara Bradley had 47 assists while Roxanne Grundmeier led the team with 16 kills. With Shiloh Simonson out due to injury, Isabella Vavrek got the start at outside hitter and had 10 kills and a team leading 30 digs.
Point Park defeated Pensacola Christian 25-11, 25-21, 25-13 to reach the halfway point of the tournament at 2-0. Grundmeier again took top honors in kills with 15 while Nicole Wurstle chipped in nine. Bradley had 37 assists, and libero Olivia Fisher had 14 digs to lead the team.
The Pioneers finish their Florida swing with morning matches against host Clearwater Christian and Ave Maria (Fla.) on Saturday.
Follow the Pioneers on Twitter @PointParkSports and @pointparkvb