Point Park wins Clearwater Christian Invitational title with 4-0 weekend in FL
Oct. 12, 2013 at 5:30 p.m. ET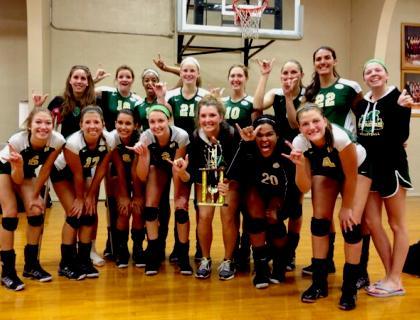 Point Park volleyball with the championship trophy at the Clearwater Christian Invitational. Photo by @pointparkvb
By Zachary Weiss Point Park University Athletic Communications Student Assistant
CLEARWATER, FLA— The Point Park University volleyball team completed its trip to Florida on Saturday with victories against host Clearwater Christian College and Ave Maria University to repeat as Clearwater Christian Invitational champions.
Point Park [17-10, 8-2 KIAC] beat Clearwater Christian, 3-2, and defeated Ave Maria, 3-1, to go 4-0 on the weekend and win the tournament championship.
Against Clearwater Christian, the teams traded sets with Point Park winning the first set, 25-23, and the third set, 25-21. Clearwater Christian countered by taking the second set, 25-23, and fourth set, 25-21.
Point Park trailed 4-0 in the early stages of the fifth set, but it fought back to a 6-6 tie later on. On the ensuing point, a bad pass brought Point Park libero Olivia Fisher toward the Pioneer bench where she brought a ball back into play for an unlikely Point Park point. From there, Point Park outscored Clearwater Christian, 8-2, and took the fifth set, 15-8. to take the set 15-8.
Roxanne Grundmeier led the Pioneers with 15 kills while Nicole Wurstle added 14 of her own. Setter Cara Bradley handed out 44 assists while Fisher, Grundmeier and Isabella Vavrek combined for 56 digs.
Point Park wrapped up its tournament title with a 25-23, 20-25, 25-17, 25-10 victory over Ave Maria. Wurstle's nine kills led the team. Fisher had with nine aces and 20 digs.
Both Wurstle and Fisher were named to the all-tournament team. Wurstle had 45 kills for the tournament, while Fisher had 75 digs and leads the team in the same category with 478 on the year. Wurstle's  277 kills this year are also good for the team lead.
Point Park will return home from Florida to play its last home match of the season against non-conference foe Bethany College on Tuesday at 3 p.m. The Pioneers will celebrate Senior Day, and Wurstle and Chelsea Katkich will be honored for their contributions while playing for Point Park.
Follow the Pioneers on Twitter @PointParkSports and @pointparkvb