Point Park volleyball rallies past Bethany for 3-2 victory on Senior Day
Oct. 15, 2013 at 11:59 p.m. ET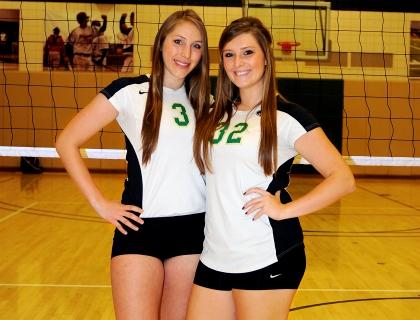 Senior Nicole Wurstle (left) and Chelsea Katkich (right) and the Pioneers got a win on Senior Day. Photo by Evan Skowvron.
By Zachary Weiss Athletic Communications Student Assistant
PITTSBURGH—The Point Park University volleyball team played its last home match of the year Tuesday and defeated Bethany College, 3-2, for a comeback victory on Senior Day at the Student Center Gym.
The victory means that Point Park [18-10, 8-2 KIAC] has won a season-best seven matches in a row. The win also is the fourth straight five-set victory and eighth time a match has gone the distance for the Pioneers this season.
Point Park won the first set but dropped the next two before coming back for the 25-21, 22-25, 16-25, 25-19, 15-11 victory. Bethany is a strong NCAA Division III team that is now 19-6, 10-0 PAC.
Prior to the start of the match, Point Park honored its two seniors, Chelsea Katkich and Nicole Wurstle. Director of Athletics Dan Swalga made some remarks before the two were joined by their families.
Katkich opened the first set on serve and the Pioneers won the first six points of the match. Bethany was able to come back in the set, however that was short lived as Point Park won the first set 25-21.
The second set was tightly contested however communication problems reared their heads and Bethany was able to win 25-22.
The same issue occurred in set number three as Bethany College capitalized on its momentum while Point Park continued to struggle communicating with each. The result was a 25-16 set victory for Bethany.
Needing to win the fourth set to extend the match, Point Park came together and played in many contested points. Towards the end, the Pioneers pulled ahead and prevailed 25-19.
In the final set Point Park built an early 8-4 lead at the halfway point. The Pioneers kept the lead and won 15-11 to take the match. Katkich, who has been limited due to injury, suited up for the Senior Day match and served some key points for an ealry, 6-2 lead in the decisive set.
Point Park had three players in double figures for kills with Cristiane Chaves leading the way with a season-high 16 kills. Roxanne Grundmeier was next with 14 kills, and Wurstle came in with 11 on her Senior Day.
Setter Cara Bradley came up big with 43 assists and 13 digs. Grundmeier also had a double-double with 11 digs, and libero Olivia Fisher had a team-best 24 digs. Nikki Inquartano posted seven blocks, and Wurstle had three.
This weekend Point Park will have a three game road trip with stops at Shawnee State and KIAC foe Indiana Southeast. The Pioneers will also play Campbellsville on Indiana Southeast's campus.