Point Park ends up 0-3 on weekend roadtrip, finishes 8-3 in KIAC reg. season
Oct. 20, 2013 at 6:45 a.m. ET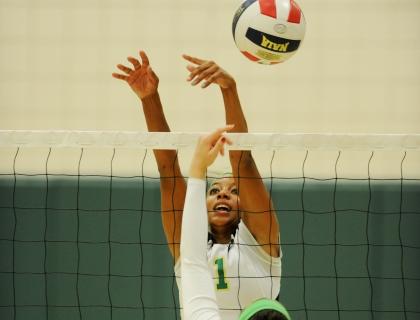 Roxanne Grundmeier and the Pioneers lost both at the IU Southeast Tri-Match. Photo by Evan Skowvron.
By Zachary Weiss Athletic Communications Student Assistant 
NEW ALBANY, Ind. -- The Point Park University volleyball team came up 0-3 on its weekend roadtrip after two losses on Saturday at the IU Southeast Tri-Match. The Pioneers lost to KIAC foe IU Southeast, 3-1, and lost, 3-0, to Campbellsville (Ky.) University on the neutral court.
Point Park (18-13, 8-3 KIAC) was competitive against Indiana University Southeast (15-9, 7-2 KIAC) for the first two sets losing the first 25-22 but winning the second by the same score.
The momentum was short lived, however, as the Pioneers were unable to get much going in either of the next two sets losing 25-14 and 25-17 to end the match.
Point Park received a large amount of its offense from senior right side hitter Nicole Wurstle who registered a career high 22 kills and an attack percentage of .714 versus IU Southeast. Setter Cara Bradley had 40 assists. Libero Olivia Fisher had 14 digs in the match.
The loss to IU Southeast puts Point Park at 8-3 KIAC and eliminates any chance of the Pioneers winning the KIAC regular season title. It also keeps Point Park out of contention for the KIAC regular season runner-up spot, which could have also materialized into an automatic bid to the NAIA national tournament. Point Park is done with its KIAC matches.
The KIAC has two bids to the NAIA tournament this year. The KIAC regular season champion will be guaranteed a spot at nationals, and the KIAC Tournament champion Nov. 15-16 at Midway (Ky.) will also get a bid. If it is the same team that wins the regular season and the tournament, the regular season runner-up will get the second national invitation.
Things did not improve for the Pioneers in match two against Campbellsville University (17-5, 9-3 MSC).
Point Park was routed in the first two sets 25-14 and 25-12 to fall in to an early 2-0 hole. The team battled in the third set but fell 25-22 to lose in straight sets.
The Pioneers were held to a .053 attack percentage, and Wurstle's seven kills led the team. Point Park averages 15 digs per game, but was held to 18 in this match. Shiloh Simonson did return to action playing in a set. The Pioneers' second-leading kill producer had been out with injury the previous seven matches.