Point Park drops five-setter at Edinboro to extend losing streak to four matches
Oct. 22, 2013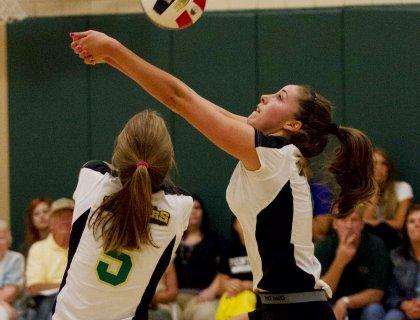 By Zachary Weiss Athletic Communications Student Assistant
EDINBORO, Pa— The Point Park University volleyball team had its losing streak extend to four matches with Tuesday night's 3-2 loss at NCAA Division II Edinboro University.
Point Park (18-14, 8-3 KIAC) won the first set 25-20 but lost the second set 25-23. In the second set, Edinboro (15-12, 6-7 PSAC-W) had 15 kills.
Edinboro won the third set 25-21, but the Pioneers came back to take the fourth, 26-24 registering 16 kills.
This meant the ninth five-set match of the season for Point Park. The Pioneers had a match point up 15-14 in the fourth set, however, Megan Branchick put down one of her game high 18 kills for Edinboro to extend things. Two points later another Branchick kill ended the match in favor of the Fighting Scots, 17-15.
Point Park outside hitter Roxanne Grundmeier had 14 kills and 14 digs. Right side hitter Nicole Wurstle also had 14 kills. Setter Cara Bradley had 42 assists and libero Olivia Fisher had 24 digs.
The Pioneers will travel to Georgetown, Ky., this weekend, to face three ranked teams in Davenport [MI], Bellevue [NE] and Lindsey Wilson [KY] in addition to receiving votes Viterbo [Wis] as part of the Georgetown (Ky.) Boneyard Brawl Oct. 25-26.
Follow the Pioneers on Twitter @PointParkSports and @pointparkvb