Point Park battles No. 23 Davenport, No. 13 Bellevue at Georgetown (Ky.) tourney
Oct. 25, 2013 at 10:45 p.m. ET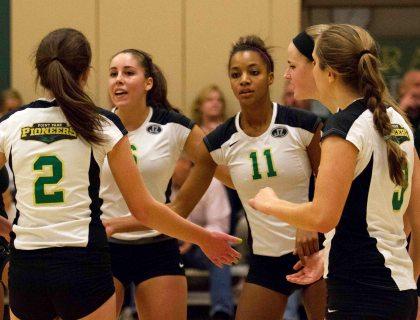 By Zachary Weiss, Point Park Athletic Communications Student Assistant
GEORGETOWN, KY—The Point Park University volleyball team dropped the opening two matches of Georgetown (Ky.) Boneyard Brawl Friday to NAIA No. 23 Davenport (Mich.) and No. 13 Bellevue, both by scores of 3-0.
With the losses in straight sets, Point Park is now 18-16 overall, but it hung tight with a pair of NAIA Top 25 teams on Friday. Point Park plays two more top teams as the tournament continues Saturday versus No. 9 Lindsey Wilson (Ky.) and receiving-votes Viterbo (Wis.).
Against Davenport (25-7, 8-1 WHAC), Point Park lost 25-21, 25-18, 25-14. Olivia Fisher moved over to outside hitter from her usual libero spot and led the Pioneers with eight kills. Fellow outside hitter Roxanne Grundmeier led the team with 11 digs. Setter Cara Bradley had 23 assists.
Nicole Wurstle picked up six kills, and Shiloh Simonson collected seven digs in her first match playing libero. Simonson is usually an outside hitter.
Point Park had a 12-5 lead in the first set versus Bellevue (25-5), but the Bruins countered by winning 19 of the next 28 points to take control. Facing three set points, Point Park battled back to take a 25-24 lead, but a Bellevue timeout worked in its favor allowing it to win, 28-26.
The second set was tied at 10-10, but the Bruins went on a 15-7 to close out the set, 25-17.
Point Park had a 21-17 lead in the third set but again Bellevue responded going on an 8-1 run to close out the match, 25-21.
The Pioneers were limited to a .026 attack percentage. Grundmeier led Point Park with seven kills. Bradley had 22 assists, and Fisher had 13 digs.
Follow the Pioneers on Twitter @PointParkSports and @pointparkvb
Photo by Evan Schall