Point Park ends regular season with 3-1 victory at NCAA DII Shippensburg
Oct. 30, 2013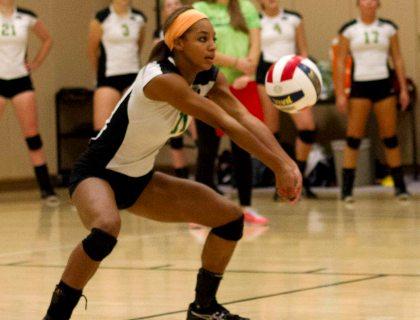 Roxanne Grundmeier had 11 kills in the victory at NCAA DII Shippensburg. Photo by Evan Schall.
By Zachary Weiss, Point Park Athletic Communications Student Assistant
SHIPPENSBURG, Pa. — The Point Park University volleyball team wrapped up its regular season Wednesday with a 3-1 victory at NCAA Division II Shippensburg University. The win snaps an eight-match losing streak for Point Park (19-18, 8-3 KIAC) and stops a 12-match winning streak for Shippensburg (20-7, 12-3 PSAC).
Point Park quickly dug itself a big hole in the opening set that included deficits of 13-4 and 22-8. Although Point Park dropped that game, 25-14, it would go on to win the final three sets.
Point Park rebounded in the second set winning eight of the first nine points. From there, it continued to build the lead to tie the match after a 25-13 set win.
In the third set, Shippensburg took an 8-3 lead, however Point Park opted not to use a timeout. Instead, the team used five kills, six attack errors and a service error to tie the set at 17.
With the score tied at 23, Olivia Fisher set the ball to setter Cara Bradley who got a kill. On the next point, Cristiane Chaves registered a kill giving the Pioneers the 25-23 set win and a 2-1 match advantage.
Point Park trailed, 3-0, early in the fourth set as Shippensburg attempted to bring the match to a fifth and final set. This lead would not last though, and the Pioneers grew their lead to 20-15, forcing a timeout. 
Point Park dropped the first two points after the stoppage of play, however got those points back. On the first match point, Isabella Vavrek hit an ace sealing the 25-19 victory.
Outside hitter Roxanne Grundmeier led the Pioneers in kills with 11. Right side hitter Nicole Wurstle added 10 kills and now stands at 993 career kills. Bradley had 36 assists in the match in addition to a team high 12 digs.
Point Park had many contributors with Olivia Fisher registering nine kills and 10 digs, Cristiane Chaves eight kills and six blocks and Nikki Inquartano seven kills. Point Park had seven service aces in the match with Vavrek and Fisher picking up two each.
This match concludes Point Park's regular season. At 8-3 KIAC, Point Park will take the fifth seed in the 12-team KIAC Tournament to be held Nov. 15-16 at Midway (Ky.) College. Point Park needs to win the championship to earn a spot in the NAIA national tournament.