Point Park advances to KIAC semifinals with two wins on Day 1 of tournament
Nov. 15, 2013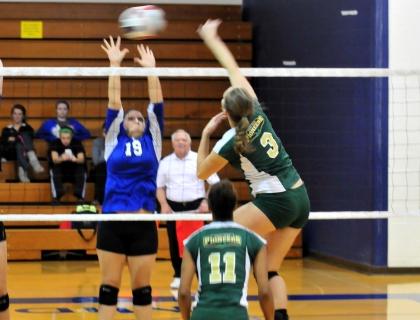 Point Park's Nicole Wurstle (3) puts down her 1,000th career kill versus Alice Lloyd Friday. Photo by Pam Veydt.
By Zachary Weiss, Point Park Athletic Communications Student Assistant
MIDWAY, Ky. -- The Point Park University volleyball team advanced to the KIAC Tournament semifinals for the second consecutive year after sweeping Alice Lloyd and Indiana University Kokomo on the first day of the conference tournament on Friday.
No. 5 seed Point Park (21-8) will play No. 1 seed Asbury (Ky.) (33-7) in the semifinals on Saturday, Nov. 16 at 10 a.m. The winner moves on the finals at 2 p.m, where it will face the winner of No. 7 St. Louis College of Pharmacy versus No. 3 IU Southeast, the other semifinals match.
Point Park defeated No. 12 seed Alice Lloyd (3-18), 3-0, allowing just 15 points between the three sets. Point Park won by scores of 25-4, 25-4, 25-7.
Right side hitter Nicole Wurstle, a senior from Valley City, Ohio, led the team with 12 kills and surpassed the 1,000-career kill mark in the match. Wurstle had a total of 19 kills on the day and now has 1,012 for her career. Setter Cara Bradley had 28 assists while Shiloh Simonson had five aces and six digs versus Alice Lloyd.
This set up a match against No. 4 IU Kokomo. These two teams met Aug. 29 and the Pioneers dropped a five set match. Point Park got revenge on Friday, however, winning 3-0 win by a 25-17, 25-23, 25-13 score.
Roxanne Grundmeier had 12 kills and 11 digs in the match, while Bradley added 30 assists. Outside hitter Olivia Fisher led the team with 12 digs and also had eight kills.
Semifinal opponent Asbury won the KIAC regular season title and earned an NAIA National Tournament berth for that. Point Park won, 3-0, at Asbury on Sept. 14. This was Asbury's lone conference loss in the regular season. Point Park must win this match to keep its hopes alive for the second and final national tournament bid out of the KIAC.
Indiana University Southeast will take on St. Louis College of Pharmacy in the second semifinal. IU Southeast defeated Carlow 3-0 in its quarterfinal, and St. Louis College of Pharmacy did the same to No. 2  Indiana University East.
Follow the Pioneers on Twitter @pointparkvb and @PointParkSports