No. 22 Point Park suffers 3-2 setback at Indiana Kokomo in KIAC opener
Aug. 29, 2013 at 8:45 p.m. ET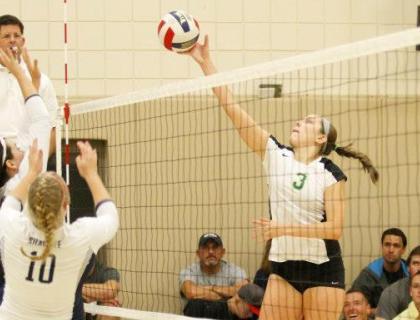 Nicole Wurstle's career-high 20 kills weren't enough in the loss at IU Kokomo. Photo by Evan Skowvron.
KOKOMO, Ind. -- NAIA No. 22 Point Park University volleyball suffered a 3-2 setback at Indiana Kokomo in its Kentucky Intercollegiate Athletic Conference opener Thursday. The Pioneers (3-2, 0-1 KIAC) won the first set, but IU Kokomo (5-0, 2-0 KIAC) stayed unbeaten with the 23-25, 25-14, 25-21, 19-25, 15-12 victory.
Point Park senior right-side hitter Nicole Wurstle did her best to make up for some injury losses early in the match with a career-high 20 kills. The Pioneers lost their active leader in kills and a key defensive player when senior Chelsea Katkich (OH) and sophomore Paige Baker (DS) went down with injuries in the first set.
Wurstle also put up five blocks and hit an impressive .581 to try to make up for the losses. Katkich was second behind Wurstle in kills so far this year and was the Pioneers' top returning kill producer from a year ago.
Roxanne Grundmeier posted a strong match with 10 kills and six blocks at the net. Shiloh Simonson totaled seven kills and 24 digs. Olivia Fisher led the back row with 30 digs. Isabella Vavrek got some time with Katkich out and came up with five kills and nine digs. Setter Cara Bradley added 41 assists and nine digs.
IU Kokomo is a newcomer to the KIAC and is off to an early lead in the conference at 2-0. The Cougars give the KIAC 12 volleyball schools, and that gives the league two automatic bids to the NAIA national tournament instead of one.
Point Park continues its road trip in Indiana with visit to the Indiana Wesleyan/Taylor Crossover Tournament Friday and Saturday. The Pioneers will play four matches in the event starting with Texas Wesleyan (5:30 p.m.) and No. 17 Indiana Wesleyan (8:00 p.m.) on Friday night at IWU.
The Pioneers will shift over to Taylor University's campus on Saturday to play Marian (Ind.) (11 a.m.) and the perennially strongly Taylor (Ind.) (1:30 p.m.)
Fans can follow Live Stats of Friday's match versus IWU (8:00 p.m.). Live Video & Live Stats will be available for Saturday's match versus Taylor (Ind.) (1:30 p.m.). Visit the Pioneers' Schedule Page for links to Live Coverage.
Follow the Pioneers on Twitter @PointParkSports and @PointParkVB.