Point Park U. drops first two matches of IWU-Taylor Crossover Tournament
Aug. 30, 2013 at 11:59 p.m. ET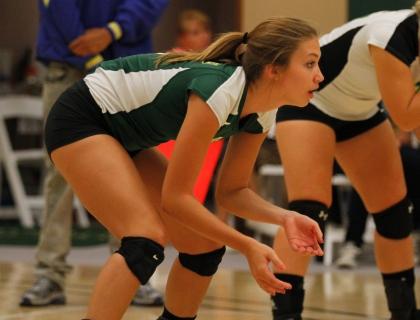 Dana Fitzgerald and the Pioneers went 0-2 at the IWU-Taylor Crossover on Friday. Photo by Evan Skowvron.
BOX SCORE vs. TWU / BOX SCORE vs. IWU
MARION, Ind. -- No. 22 Point Park University volleyball continued its tough schedule Friday night and was saddled with a pair of losses to Texas Wesleyan and No. 17 Indiana Wesleyan on the first day of the IWU-Taylor (Ind.) Crossover Tournament.
The Pioneers (3-4, 0-1 KIAC) lost to once-beaten Texas Wesleyan, 3-2, with set scores of 23-25, 25-17, 25-17, 16-25, 15-7. Point Park followed that with a 3-1 defeat to tournament co-host Indiana Wesleyan, 24-26, 25-15, 25-19, 25-10.
Point Park will continue tournament play on Saturday versus Marian (Ind.) (2-0) at 11 a.m. and at Taylor (Ind.) (2-4) at 1:30 p.m. Texas Wesleyan won both of its matches Friday to improve to 5-1, and Indiana Wesleyan is now 3-3.
Nicole Wurstle paced the Pioneers with 11 kills, seven digs and three blocks versus Texas Wesleyan. Shiloh Simonson added eight kills and 16 digs. Cristiane Chaves chipped in four kills and four blocks. Setter Cara Bradley recorded a double-double with 28 assists and 10 digs.
Wurstle and Simonson tied for the team lead with eight kills apiece in the loss to IWU. Simsonson also had 12 digs, as did Isabella Vavrek. Roxanne Grundmeier totaled five kills and four blocks. Vavrek added to the point total with six kills, and Kelsey Veydt came up with nine digs.
The Pioneers will try to put a stop to their four-match losing streak on Saturday, the final day of their three-day road trip to Indiana. Point Park has lost to two ranked teams in the current losing streak and two of the losses have come in five sets.
Point Park was once again with senior outside hitter Chelsea Katkich and defensive starter Paige Baker due to injury on Friday. Both were injured in Thursday's loss at IU Kokomo.
Follow the Pioneers on Twitter @PointParkSports and @PointParkVB