Point Park drops two five-setters on Day 2 of IWU-Taylor Crossover Tournament
Aug. 31, 2013 at 4:15 p.m. ET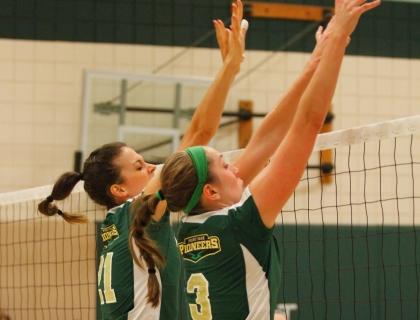 The Pioneers lost 3-2 to Marian (IN) and Taylor (IN) on Saturday. Photo by Evan Skowvron.
UPLAND, Ind. -- No. 22-ranked Point Park University volleyball lost two nailbiters on Saturday on the second day of the IWU-Taylor Crossover Tournament with a 3-2 loss to unbeaten Marian (Ind.) and a 3-2 defeat to co-host Taylor (Ind.), a perennially strong NAIA program.
Point Park (3-6, 0-1 KIAC) battled back to force a fifth set in both matches on Saturday but came up short, 15-13 to Marian and 15-12 to Taylor (Ind.). With the pair of losses, Point Park is now 0-4 in matches that go to five sets.
Both teams were in control at times in the first four sets versus Marian (3-0) as scores went in the Knights' favor, 25-12, 17-25, 25-16, 20-25, 15-13.
Point Park had to go extra points to take the two sets that it did from Taylor (Ind.). But the Trojans battled back from losing the first set to win the match, 26-28, 25-18, 25-23, 24-26, 15-12.
Point Park trailed the fourth set, 24-20, to Taylor (4-5). But the Pioneers fought off four straight match points and won six points in a row to force a final set, 26-24.
All in all, it was a tough weekend for Point Park, which battled through five matches in less than 48 hours with four of them going all five sets. The Pioneers came up 0-5 on the weekend, and they had to play without their active leader in career kills, senior outside hitter Chelsea Katkich, and defensive starter Paige Baker, a sophomore. Both were injured in Thursday's match at IU Kokomo.
Nicole Wurstle and Roxanne Grundmeier each had a big day for the Pioneers on Saturday. Wurstle, a right-side hitter, led Point Park in kills in both matches with 12 kills and four blocks versus Marian and 15 kills and seven blocks versus Taylor.
Grundmeier, a middle hitter, hit .435 with 14 kills and five blocks against Taylor. She also had eight kills and three blocks verus Marian. Nikki Inquartano got a lot of time as middle hitter against Taylor and came up with 10 kills, seven blocks and a .421 hitting percentage.
Ashlyn Dehoogh had a huge match for Taylor with 25 kills, 11 digs and three blocks.
Point Park is in action next versus KIAC local rival Carlow as part of Jam the Gym at Kiski Area High School on Sept. 4 (7 p.m.). The annual event raises money and awareness for cancer research in support of Kiski Area volleyball coaches Ellen Toy and the late Jaime Morran. Find out more at jamthegym.com
Follow the Pioneers on Twitter @PointParkSports and @PointParkVB