Point Park finishes 3-1 at UMD Early Bird with win over St. X, loss to No. 11 Madonna
Aug. 24, 2013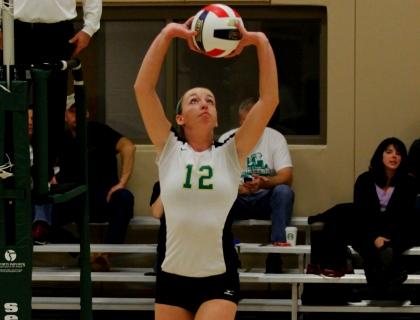 Setter Cara Bradley and the Pioneers went 3-1 at the UMD Early Bird Tournament. Photo by Evan Skowvron.
DEARBORN, Mich. -- NAIA No. 22 Point Park University finished up with a 3-1 record at the season-opening Michigan-Dearborn Early Bird Tournament after beating St. Xavier (Ill.), 3-1, and losing to No. 11 Madonna (Mich.), 3-0, on Saturday.
The Pioneers (3-1) will guarantee themselves of a high finish at one of the marquee tournaments of the early NAIA volleyball schedule. Depending on results, Point Park will be at least tied for third with both No. 11 Madonna and Grace (Ind.) going a perfect 4-0 on the weekend.
Point Park beat 2012 NAIA national tournament qualifier St. Xavier by scores of 25-15, 23-25, 25-20, 25-19. Madonna, also an NAIA tourney qualifier from a year ago, downed the Pioneers, 25-15, 25-14, 25-13.
Seniors Nicole Wurstle and Chelsea Katkich each had 12 kills in the win over St. Xavier. Wurstle was very efficient hitting .526 on 19 attempts, and middle hitter Cristiane Chaves was also sharp with seven kills in 11 attempts for a .455 percentage.
Libero Olivia Fisher picked up 31 digs, and setter Cara Bradley had 40 assists. Roxanne Grundmeier chipped in nine kills and five blocks, and Shiloh Simonson totaled eight kills and 17 digs.
In the loss to Madonna, the Crusaders didn't leave much room for Point Park as the Pioneers hit just .028 as a team. Katkich had a team-high five kills. Fisher had a team-high 14 digs, and Simonson recorded eight.
The No. 22 Pioneers will pick up action next weekend with a trip to play KIAC newcomer Indiana Kokomo on Thursday before participating in the Indiana Wesleyan / Taylor Tournament next Friday and Saturday.
Follow the Pioneers on Twitter @PointParkSports and @PointParkVB.