Point Park volleyball drops KIAC match to Carlow, 3-1, at Jam The Gym
Sept. 5, 2013 at 12:00 p.m. ET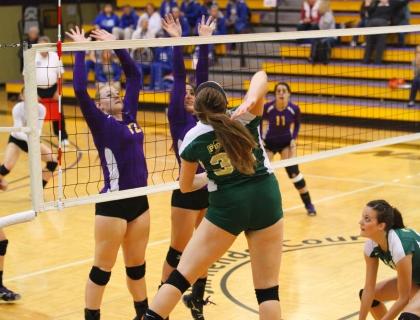 Photo by Evan Skowvron.
VANDERGRIFT, Pa. -- Point Park University lost to Carlow, 3-1, in a KIAC volleyball match Wednesday (Sept. 4) night as part of Jam The Gym at Kiski Area High School.
The Pioneers (3-7, 0-2 KIAC) won the first set, but Carlow (4-1, 1-0 KIAC) used momentum from a big win in the second set edge out the Pioneers by a couple of points in sets three and four.
Carlow won the match, 18-25, 25-12, 25-23, 25-23 to beat Point Park for the first time in six years. Point Park has lost seven matches in a row, including its first two KIAC matches.
Point Park hurt its cause with a total of 48 errors in the match. The Pioneers were whitsled for seven ball-handling errors and 25 attack errors on their way to hitting .103 for the match.
Senior Nicole Wurstle had 12 kills, three blocks and a team-best .323 hitting percentage. Shiloh Simonson added eight kills and 18 digs. The middle hitter position got nine kills and four blocks from Roxanne Grundmeier and six blocks from Cristiane Chaves. Olivia Fisher led the team with 27 digs.
The match was a part of Jam The Gym, which raises money and awareness for cancer research. The event is in honor of Kiski Area volleyball head coach Ellen Toy and the late Jaime Morran, her former assistant coach. Point Park coach Mike Bruno is a Kiski Area alum.
The Pioners will look to put an end to the losing streak with a big conference home match Friday night versus IU East (10-1). The rematch of last year's KIAC Tournament Finals, won by IU East, 3-2, is at 7 p.m. in the Student Center Gym. The match ends Day 1 of the Battle of the Boulevard Tournament at Point Park.
Follow the Pioneers on Twitter @PointParkSports and @PointParkVB