Point Park senior Nicole Wurstle named KIAC Volleyball Player of the Week
Sept. 16, 2013 at 10:40 p.m. ET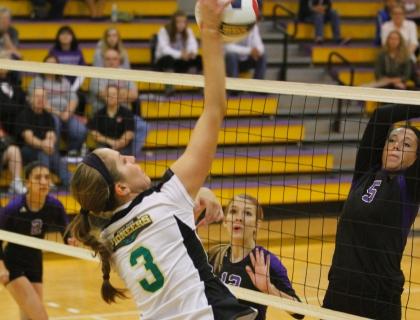 Nicole Wurstle is the KIAC Volleyball Player of the Week with 69 kills last week. Photo by Evan Skowvron.
PITTSBURGH -- Point Park University senior right-side hitter Nicole Wurstle has been named the KIAC Volleyball Player of the Week for Sept. 9-16 after leading the Pioneers to a 6-0 weekend in conference play.
Wurstle, a native of Valley City, Ohio, who has been a starter all four years, had an excellent week for Point Park (11-9, 7-2 KIAC). The Pioneers' 2013 leader in kills put up 69 kills in seven matches, and hit an impressive .602 for the week. She also added 15 total blocks.
After losing the first match of the week at NCAA Division II Fairmont State last Tuesday, Wurstle and the Pioneers went 6-0 on a weekend trip of KIAC matches. She posted double-digit kills in four of the six conference matches and averaged 3.29 kills per set on the week.
Wurstle's high hitting percentage was built on limiting her hitting errors to just seven compared to 69 kills in 103 attempts. Wurstle was a KIAC All-Conference First Team selection last year.
Point Park is off until it hosts California (Pa.) on Sept. 21 for its Volley for Vision event. Match time is 1 p.m. at the Student Center. Admission is a suggested donation of $5 for adults and $2 for students. proceeds benefit the Vision Research ROPARD Fund.
Follow the Pioners on Twitter @PointParkSports and Facebook.com/PointParkAthletics