Gold Team wins season opener, 3-1, over Butler County CC
Sept. 9, 2009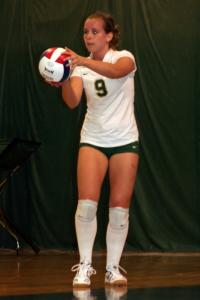 PITTSBURGH -- Point Park volleyball's Gold Team won its season-opening match, 3-1, over Butler County Community College Wednesday at Greentree SportsPlex.
The Gold Team (1-0) won by scores of 25-19, 22-25, 25-23, 25-19.
Angela Nelson (Meadville/Meadville) had a team-high 32 assists, and Rachel Stedina (South Beaver/Blackhawk) recorded 10 kills.
Amanda Ardinger (Moon/Moon Area) led the defense with 22 digs to go with four aces. Amanda Wenger (Warren/Warren) chipped in 14 digs and six kills.
The Gold Team will visit the Community College of Beaver County Monday at 6 p.m. The next home match is Wednesday vs. Penn State-Fayette (4 p.m.).
The Gold Team is in its second year of existence, and it serves as the developmental team for the Pioneers' varsity squad. Neal Brown, who is in his third year on the Point Park volleyball coaching staff, is the head coach of the Gold Team.
Pictured above: Angela Nelson had 32 assists for the Gold Team Wednesday.