Pioneers drop two close matches, Lamens named all tourney
Aug. 29, 2009
CLARION, Pa. --  Point Park University lost a pair of volleyball matches Saturday at the Clarion Tournament, and senior Megan Lamens was named to the all-tournament team.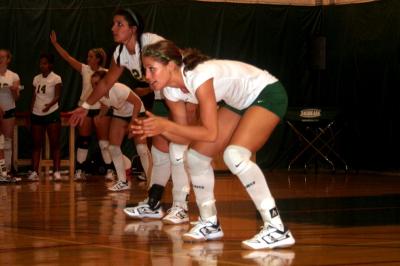 Pictured above: Megan Lamens (foreground) and Rachel Roddy get set on defense in a match last year.
In the first match of the day, Ohio Dominican edged Point Park, 3-1, despite 19 kills and three blocks from Lamens (New Baltimore/Berlin Bros.). After losing the first set, Ohio Dominican won a close match, 16-25, 25-23, 25-20, 25-23.
Point Park (0-3) finished the tournament by losing to Clarion, 3-1. The Golden Eagles won by scores of 25-18, 25-17, 26-28, 25-22.
Point Park, which opened the season with a 3-1 loss to Tiffin Friday, played three NCAA Division II teams on the weekend. In fact, the Pioneers' first 12 matches are versus Division II teams. Point Park visits Fairmont State Wednesday (7 p.m.) before playing in the Davis & Elkins tournament Saturday and Sunday.
Lamens, the lone senior on the Pioneers' roster, totaled 37 kills in three tournament matches, and she leads Point Park in that category. She had a team-high 403 kills a year ago, her first season with the Pioneers after transferring from Juniata.
Versus Ohio Dominican Saturday, sophomore setter Katie Geary (Pittsburgh/Shaler) recorded a career-high 47 assists. Geary bested her previous career high of 32 she set in the season opener Friday.
Lindsey Oberacker (Erie/McDowell) turned in 16 kills, and Alyssa Hall (Moon/Moon Area) tallied 31 assists.
In the match versus Clarion, Rachel Roddy (Greensburg/Greenburg Salem) had 17 digs and eight kills. Freshman Ali Gendron (Sheffield, Ohio/Brookside) registered 14 digs and eight kills, and Lamens chipped in eight kills. Hall added 11 digs, and the freshman from Moon led the Pioneers with 61 digs on the weekend.
Ohio Dominican had been a member of the American Mideast Conference before making a move to NCAA Division II membership this year.
Host Clarion went 3-0 in the tournament, and Ohio Dominican's only loss was the Clarion. Tiffin went 1-2 on the weekend.