Point Park erases early deficit in comeback victory
Sept. 2, 2009
FAIRMONT, W.V. -- Point Park University won the final three sets of a non-conference volleyball match Wednesday to register a 3-2 victory over Fairmont State.
The Pioneers (1-3) lost the first two sets but won the match, 23-25, 28-30, 25-19, 25-17, 18-16.
Point Park racked up 81 kills in the comeback victory, and Katie Geary (Pittsburgh/Shaler) recorded an impressive 72 assists. Geary, a sophomore, set a career high for assists for the third time in four matches this year.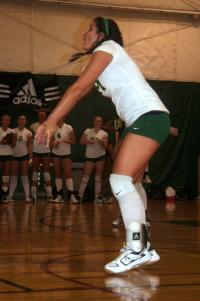 The Pioneers' offense was led by middle hitters Megan Lamens (New Baltimore/Berlin Bros.) and Ashley Zietak (Pittsburgh/Brashear), who tallied 20 and 18 kills, respectively.
Rachel Roddy (Greensburg/Greensburg Salem) posted 14 kills and 13 digs and had a .500 hitting percentage. Roddy is pictured at left.
Ali Gendron (Sheffield, Ohio/Brookside) chipped in 16 kills, and fellow freshman Lindsey Oberacker (Erie/McDowell) added 11 kills to give the Pioneers five players with double-digit kills.
Alyssa Hall (Moon/Moon Area) led the defense with 24 digs.
The last time Point Park erased an 0-2 deficit to win a match in five sets was last season at West Liberty State (Sept 8). The Pioneers won that match by scores of 19-25, 19-25, 25-20, 25-23, 15-13.
Point Park visits the Davis & Elkins tournament Friday and Saturday. The Pioneers open tourney play versus West Virginia Wesleyan (1 p.m.) and West Liberty State (5 p.m.) on Friday.
Point Park will play Fairmont State again on Sept. 12 in the final match of the Hampton Inn-Pioneer Invitational.