Roddy earns Westmoreland County 'Sportswoman of the Year' honor from YWCA
April 1, 2010
GREENSBURG, Pa. – Rachel Roddy, who plays volleyball and women's basketball at Point Park University, has been named the 2010 Westmoreland County Sportswoman of the Year for Excellence in a Team Sport, announced the YWCA of Westmoreland County.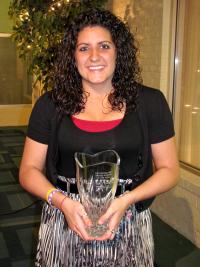 Roddy, a junior from Greensburg, Pa., was honored during the YWCA's 16th annual Sportwomen of the Year awards banquet March 31 at the Four Points Sheraton in Greensburg.
The graduate of Greensburg Salem High School was selected after her nomination was reviewed by a panel of judges. She was nominated by the Point Park athletic department.
YWCA of Westmoreland County Web site
Related article:
Roddy, Seaman honored for the third time (from Tribune-Review, April 1, 2010)
Roddy is a three-year starter and an all-conference right-side hitter on the Point Park volleyball team. She joined the women's basketball squad for the first time in her career this season and quickly became a key reserve forward for the Pioneers.
Roddy is an NAIA Scholar-Athlete who owns a cumulative grade-point average of 3.93 as an elementary education major. She is the daughter of Barry and Tracy Roddy.
The YWCA of Westmoreland County in partnership with the Women's Sports Foundation is in its 16th year presenting the Westmoreland County Sportswomen of the Year Awards Program. The awards program has recognized outstanding female athletes in a number of categories each year since 1995. 
Along with winners in 10 other categories, Roddy will be recognized during an awards banquet on March 31 at the Four Points Sheraton in Greensburg. The banquet will be held from 6-8:30 p.m.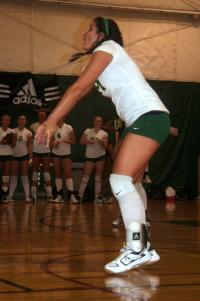 Roddy is being recognized as the Sportswoman of the Year for Excellence in a Team Sport on the College Level. That honor is given to a Westmoreland Co. woman 18 years or older who demonstrates superior athletic and academic achievement, community involvement and outstanding leadership qualities on the college level.
The 2007 graduate of Greensburg Salem has been a captain on the Point Park volleyball team the last two years. The outstanding play of Roddy, a right-side hitter, has allowed the Pioneers to have three consecutive winning seasons, something that had never been done before in school history.
As a junior volleyball player in the fall of 2009, Roddy was named first-team All-American Mideast Conference while leading Point Park to a 32-8 record and a berth in the championship match of the AMC tournament. Early in the season, Roddy surpassed the milestones for 1,000 career kills and 1,000 career digs. In just three seasons, Roddy has career totals of 1,183 kills and 1,333 digs.
In 2009, Roddy had 439 kills to help the Point Park offense rank sixth in the nation in total kills. She also added 402 digs on defense. Point Park lost to Walsh, 3-2, in the finals of the AMC Tournament and was just five points shy of earning a bid to the NAIA national tournament. The Pioneers set school records for wins (32) and consecutive wins (15).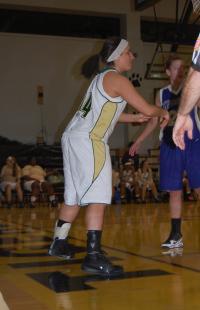 For her success in the class room, Roddy was named an NAIA Scholar-Athlete this year in the first year in which she was eligible. To be eligible, a student-athlete needs to have a cumulative grade-point average of a 3.5 or higher and be at least a junior in academic standing.
Roddy joined the Point Park women's basketball for the first time in her career this year. A standout basketball player in high school who was named to the Pittsburgh Post-Gazette's Class AAA Fab 5 team as a senior, Roddy averaged 5.0 points and 3.0 rebounds per game in her debut season for the Pioneers. Roddy reached double figures in scoring three times including a career-high 12 points and eight rebounds in a victory at Malone.
While at Greensburg Salem, Roddy earned a school-record, 14 varsity letters as a four-sport athlete. A standout performer in volleyball, basketball, softball and track and field, Roddy's senior year was capped off by being named the Female Athlete of the Year by the Tribune-Review and the Pittsburgh Post-Gazette East.
Upon enrolling at Point Park in 2007, Roddy received the Presidential Scholarship, which is the highest academic award given at the school. Roddy has been on the Dean's List every semester of her college career, and she is a two-year member of the Future Educators of America.
Roddy actively participates in a youth-mentoring program at elementary schools on the North Side as part of Point Park's involvement in the NAIA's Champions of Character initiative. In addition, she serves as the secretary on Point Park's student-athlete council, which is made up of student-athletes at Point Park.
PRAISE FOR RODDY FROM POINT PARK COACHES AND ADMINISTRATORS
From Mike Bruno, Point Park University volleyball head coach:
"Rachel Roddy brings tangibles and intangibles to the table on the Point Park University volleyball team. Athletically, she is an integral part of our recent success, and we run our entire offense through her. She is a leader on and off the court, and she is the type of young lady that every coach wants on their team. You want the ball in her hands in crunch time because you know she will get the job done. She is a two-year captain who advocates to her teammates the system that the coaching staff has put in place."
"She is the type of young lady who you hope your own daughter ends up like. My daughters are big fans of her, and she sets a great example. She will be a great teacher, and whatever school district gets her will be really lucky that she is working with the kids of that area."
From Sam Kosanovich, Point Park University women's basketball head coach:
"Rachel Roddy has the background as a proven winner in high school as a multi-sport athlete and during her time on the Point Park volleyball team. Those qualities along with leadership and dedication have carried over to college basketball since she joined the Point Park women's basketball team this year."
"She is a very coachable player who will do whatever it takes to help the team. She quickly made the transition from volleyball to basketball, and she has become an important part of our team. She is very likable with her teammates, and she is a good person on and off the court. We are really glad that she has come out for the basketball team, and we recruited her heavily when she was in high school."
From Dan Swalga, Point Park University Director of Athletics:
"Point Park University Athletics has been blessed to have Rachel Roddy as a participant. She epitomizes what it means to be a student-athlete. She is a consummate leader on and off the playing floor. She is a great student, a great athlete and a great representative of the University.
From Dr. Darlene Marnich, Point Park University Faculty-Athletic Representative and Chair of Education Department:
"As the Faculty Athletic Representative, I continue to be impressed by her consistently high academic performance, all while maintaining the busy schedule of athletics.  Her overall QPA is currently 3.93. 
"As Chair of the Education Department, I could not be more proud to have Miss Roddy represent us when she is out in the school systems conducting observations and working on field experiences.   Her dedication to excellence in education is to be commended."