Point Park's Geary leads the NAIA in total assists in this week's rankings
Oct. 12, 2009
PITTSBURGH - Point Park University setter Katie Geary leads the nation in total assists, according to the NAIA weekly volleyball statistics released Monday by the national office.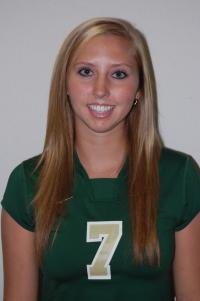 Geary, a sophomore from Pittsburgh and a graduate of Shaler Area High School, has 1,099 assists, which is seven more than Inta Grinvalids of Madonna (Mich.). Geary is one of six setters in the country with more than 1,000 assists.
For a complete listing of NAIA volleyball statistical leaders, click here  (click assists in the menu to view assists leaders).
Geary has been ranked in the top five nationally for much of the season, but this week marks the first time that she has overtaken the top spot.
In four matches this past week at the Clearwater (Fla.) Christian Tournament, Geary had 178 assists in 15 sets. That equates to an average of 11.87 assists per set, which is half an assist higher than her season average of 11.33 assists per game. She ranks fifth in the NAIA in assists per set, and Grinvalids leads that category at 11.6.
Geary leads the American Mideast Conference in total assists and is one of only two players in the league with more than 1,000. She is second in the conference in assists per set, trailing only Walsh's Hannah Duran, who averages 11.4.
Geary is part of a Point Park offensive attack that ranks 10th in the NAIA in total kills with 1,276. The Pioneers rank 24th in the country in kills per set at 13.15.
Point Park (20-6 overall, 2-3 AMC) is one of three AMC teams in the top 10 in the NAIA in total kills. Northwestern Ohio ranks fifth with 1,326, and Saturday's opponent Mt. Vernon Nazarene is ninth with 1,295.
The Pioneers have three of the top 15 AMC leaders in total kills. Megan Lamens ranks fifth in the AMC with 318 kills, Rachel Roddy is eighth with 304 and Lindsey Oberacker is 14th with 261. Currently, there are 36 players in the NAIA with more than 300 kills.
Point Park's offense has sustained strong play all season despite the absence of middle hitter Ashley Zietak, who has missed the last 20 matches with a hand injury. Zietak, who had 448 and 345 kills, respectively, her first two seasons, is slated to return to the lineup Saturday at Mt. Vernon Nazarene.