Volley for Vision set for Saturday vs. Houghton (1 p.m.)
Oct. 28, 2009
PITTSBURGH - The Point Park University volleyball team will be hosting its Volley for Vision event Saturday during an American Mideast Conference match versus Houghton at 1 p.m. at Greentree SportsPlex.
For a recap of the Volley for Vision match, click here.
For the second straight year, the Pioneers will be conducting a Volley for Vision game, and all proceeds benefit the Association for Retinopathy of Prematurity and other Related Diseases (ROPARD).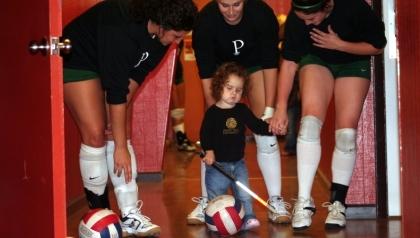 Pictured above, Cassie Bruno, the daughter of Point Park volleyball coach Mike Bruno uses her cane to mobilize at last year's Volley for Vision.
ROPARD is dedicated to eliminating the problems of low vision and blindness in children related to premature birth and retinal disease. Its primary goal has been the funding of clinically relevant research to understand, treat and prevent retinopathy of prematurity and related retinal diseases. It is supported solely by private contributions administered by its Board of Trustees.
The Pioneers will raise money for ROPARD in several different ways on the day of the match, and they are also currently soliciting donations.
Donations to ROPARD can be made in a flat rate or on a per-dig basis. Digs are a defensive statistic in volleyball, and for every dig that Point Park records during the match versus Houghton, money will be donated to the cause. Currently, the Pioneers are averaging 17 digs per set.
Admission to Saturday's match will be a $5 donation to ROPARD for adults and a $2 donation for students.
Volley for Vision t-shirts will be on sale for $10 each, and there will be raffles featuring Pittsburgh Steelers and Pittsburgh Penguins prizes.
In addition to raising money for ROPARD, Volley for Vision will also raise awareness about visually impaired children. Several elementary students from the Western Pennsylvania School for Blind Children will be on hand to serve as honorary captains and team members.
One of the elementary students will be Shailen Abram, a visually impaired boy who will be singing the national anthem before the match and a few other songs during the set breaks.
Last year, the Pioneers raised more than $3,600 for ROPARD. That total included the money raised on the day of the match and in donations made before and after the event.
For more information or to donate, visit the official Volley for Vision Web site, www.volleyforvision.org. The Web site includes an informational video about last year's event.
The Point Park volleyball program and head coach Mike Bruno created Volley for Vision, and since hosting last year's inaugural match, other college volleyball teams have taken it upon themselves to hold similar events.
On Oct. 13, the West Liberty State volleyball team held a Volley for Vision match versus Ohio Valley. Anyone who is interested in learning more about hosting a Volley for Vision match should contact coach Mike Bruno at mbruno@pointpark.edu or (412) 392-3926.
The inspiration for Volley for Vision is Mike Bruno's three-year old daughter, Cassie, who born 15 weeks premature in November of 2005.
Cassie survived a courageous, 114-day fight in Magee Women's Institute and Children's Hospital, and her courage has been an inspiration to the Pioneers' volleyball team. A result of Cassie's premature birth, she suffered retinopathy of prematurity and is legally blind.
Cassie Bruno is a student at the Western Pennsylvania School for the Blind, and she will join her classmates at Volley for Vision Saturday.