Point Park extends non-conference win streak, matches school record for wins
Oct. 28, 2009
SLIPPERY ROCK, Pa. - The Point Park University volleyball team earned its 20th consecutive non-conference victory Wednesday by defeating Slippery Rock, 3-1.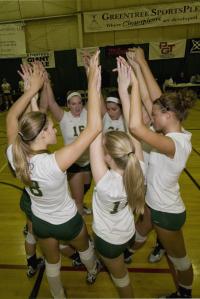 Point Park (25-7) took the final three sets from The Rock in winning by scores of 26-24, 25-22, 25-14, 25-19.
The Pioneers started the season by losing three non-conference matches at the Clarion tournament, but after the 0-3 start, they have not lost a non-league match since Aug. 29. Each of Point Park's loses since then have come in American Mideast Conference play, where the Pioneers own a 5-4 record.
In picking up the win, the Pioneers matched a school record for victories in a season with 25. Point Park established the all-time high for wins in 2007 with a final record of 25-14. Point Park was 19-18 last year, and that marks the second-highest win total in school history.
Point Park has a 12-3 record versus NCAA Division II competition this year.
Point Park's Zoe Hughes (Butler/Knoch) led the attack versus Slippery Rock with a career-high 19 kills. The sophomore outside hitter had a previous career high of 18 kills at Fairmont State earlier this year.
On defense, freshman libero Amanda Ardinger (Moon/Moon Area) tied a career high with 31 digs, a total that she also reached in a win over Notre Dame (Ohio).
Megan Lamens (New Baltimore/Berlin Bros.) tallied 14 kills for a Point Park offense that ranks 15th in the NAIA in total kills (1,526) and kills per set (13.390).
Katie Geary (Pittsburgh/Shaler) handed out 43 assists, and Ashley Zietak (Pittsburgh/Brashear) had nine kills and five blocks.
Rachel Roddy (Greensburg/Greensburg Salem) totaled eight kills, 14 digs and four aces while Margaret Gillooly (Cranberry Twp./Seneca Valley) contributed 16 digs.
Point Park registered a season-high of 96 digs. Ali Gendron (Sheffield, Ohio/Brookside) had 10 digs, Hughes had eight and Geary chipped in six.
Point Park resumes AMC play Saturday by playing host to Houghton at 1 p.m. at Greentree SportsPlex. The Pioneers will be hosting their Volley for Vision event that day, and proceeds benefit ROPARD.
For more information about Volley for Vision or to donate, visit the official web site at www.volleyforvision.org.