Lamens reaches 1,000 kills in split at Shawnee State tri-match
Oct. 3, 2009 
PORTSMOUTH, Ohio  -- Point Park University middle hitter Megan Lamens eclipsed the 1,000-kill mark for her career Saturday as the Pioneers split a tri-match at Shawnee State.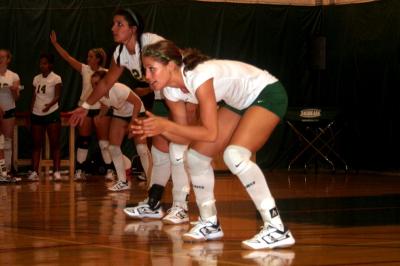 Lamens (pictured above), a senior from New Baltimore and a graduate of Berlin Brothersvalley High School, had a career-high 24 kills in a 3-2, non-conference victory over Ohio Dominican. Earlier in the day, she posted 16 kills in a 3-0 loss to Shawnee State in an American Mideast Conference match.
Point Park (16-5 overall, 2-2 AMC) opened Saturday's tri-match with a 29-27, 25-13, 25-15 loss to host Shawnee State. It was the second AMC loss in as many days for the Pioneers, who lost at Cedarville, 3-2, Friday. The loss to the Yellow Jackets snapped Point Park's 15-match winning streak.
Versus Ohio Dominican Saturday, Point Park took the final two sets to win by scores of 22-25, 25-17, 22-25, 25-20, 17-15.
Lamens, who is one of three captains for Point Park, is in her second season with the Pioneers after transferring from Juniata. She leads Point Park with 264 kills this year, and she had a team-high 403 kills a year ago. Lamens had 345 kills in two years at Juniata to give her a career total of 1,012.
The loss to Shawnee State marked the first time this year that Point Park was swept, 3-0. Katie Geary (Pittsburgh/Shaler) had 33 assists, and Lindsey Oberacker (Erie/McDowell) had nine kills.
Amanda Ardinger (Moon/Moon Area) and Rachel Roddy (Greensburg/Greensburg Salem) recorded 15 and 11 digs, respectively.
In the win over Ohio Dominican, Lamens' career-high kill total was aided by Geary's 57 assists. Geary also had eight digs.
Oberacker contributed 13 kills and three blocks while Roddy added 10 kills and 13 digs. Zoe Hughes (Butler/Knoch) contributed 12 kills.
On defense, Margaret Gillooly (Cranberry Twp./Seneca Valley) and Alyssa Hall (Moon/Moon Area) had 13 digs each.
Point Park travels to Walsh Tuesday for a key AMC match at 7 p.m.