Pioneers sweep Houghton in Volley for Vision match, set record for wins
Oct. 31, 2009
PITTSBURGH -- The Point Park University volleyball team continued its strong play Saturday with a 3-0 victory over Houghton in an American Mideast Conference match at Greentree SportsPlex.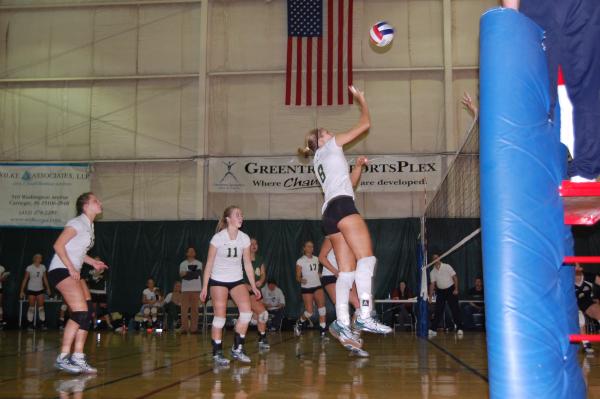 VOLLEY FOR VISION PHOTO GALLERY (Photos by Lyddia Ankrom)
The Pioneers (26-7 overall, 6-4 AMC) won their sixth-straight match and set a school record for victories in a season with their 26th win.
Point Park topped Houghton by scores of 25-13, 25-12, 25-18.
Point Park eclipsed the previous school record of 25 wins, which was set in 2007 when the Pioneers were 25-14.
The Pioneers improved to 9-0 at Greentree SportsPlex and won their fourth straight AMC match after going 2-4 in the first half of the conference schedule.
Point Park has two AMC matches remaining among its final three matches. The Pioneers are in sixth place in the conference, and the top six teams qualify for the postseason.
The Pioneers raised money and awareness for ROPARD while hosting its Volley for Vision event Saturday. All proceeds of Saturday's match benefitted the Association for Retinopathy of Prematurity and Related Diseases (ROPARD), which is dedicated to eliminating problems of low vision and blindness related to premature birth.
Money was raised through gate receipts, sale of Volley for Vision merchandise, raffles and donations. The donations were made in a flat rate or on a per-dig basis. For every dig that Point Park recorded, money was raised for ROPARD. The Pioneers totaled 51 digs versus Houghton.
Rachel Roddy (Greensburg/Greensburg Salem), Ali Gendron (Sheffield, Ohio/Brookside) and Amanda Ardinger (Moon/Moon Area) tied for the team lead with nine digs apiece. The Pioneers averaged 17 digs per set during the match.
Offensively, Point Park was led by Lindsey Oberacker (Erie/McDowell) and Ashley Zietak (Pittsburgh/Brashear), who had 15 and 13 kills, respectively.
Megan Lamens (New Baltimore/Berlin Bros.) tallied nine kills, and Zoe Hughes (Butler/Knoch) added six kills and four digs. Roddy chipped in five kills and four assists.
Alyssa Hall (Moon/Moon Area) tallied 23 assists and six digs, and Katie Geary (Pittsburgh/Shaler) had 19 assists. Margaret Gillooly (Cranberry Twp./Seneca Valley) contributed eight digs.
Point Park welcomes Ursuline Tuesday for an AMC match at Greentree SportsPlex. It is the final home match of the season for the Pioneers, who will be holding their Senior Day. The match starts at 7 p.m.
Pictured above, Point Park's Megan Lamens plays the ball over the net during Saturday's match versus Houghton at Greentree SportsPlex. Photo by Lyddia Ankrom.