Roddy reaches 1,000 kills to go with her 1,000 digs, Pioneers win three times
Oct. 9, 200 
CLEARWATER, Fla. - Point Park University right side hitter Rachel Roddy surpassed the 1,000-kill milestone for her career Friday in helping the Pioneers win three matches on the first day of the Clearwater (Fla.) Christian Tournament.
Roddy, a native of Greensburg, has continued to display her outstanding all-around game in her junior season. On Sept. 4, she eclipsed the 1,000-career dig mark and now has the impressive feat of reaching the milestone in the top offensive and defensive statistical categories.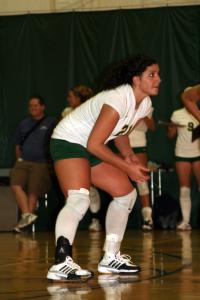 Point Park (19-6 overall, 2-3 AMC) started the day with a 3-0 victory over Southern Wesleyan (S.C.) by scores of 25-15, 25-20, 25-12.
The Pioneers topped Trinity Christian (Ill.), 3-1, with scores of 25-20, 18-25, 25-18, 25-21 in the second match of the afternoon.
Point Park finished the day by beating Florida College, 3-1, in four close sets, 29-27, 21-25, 25-23, 25-23.
Roddy (at left), a junior from Greensburg, tallied 12 kills versus Trinity Christian to eclipse 1,000 kills for her career. Roddy, who reached the 1,000-career dig mark in a victory on Sept. 4, also had seven digs and three aces in the match.
With the milestone out of the way, Roddy tallied a career-high 21 kills to go along with eight digs in the victory over Florida College. Her previous career high for kills was 20 versus Notre Dame Sept. 29.
Roddy had 37 kills on the day to bring her career total to 1,028. The 5-9 junior finished Friday's matches with 1,187 career digs. This year, Roddy is second on the team with 284 kills after posting 414 kills as a freshman and 330 kills as a sophomore.
With the trio of victories Friday, Point Park matched is victory total from last year. The Pioneers were 19-18 a season ago.
Senior Megan Lamens (New Baltimore/Berlin Bros.), who surpassed the 1,000 career kill milestone Saturday, had 33 kills Friday to bring her team-leading total to 302 this year. The 6-0 middle hitter had 10 kills versus Southern Wesleyan and 15 kills versus Trinity Christian.
In the win over Southern Wesleyan, Lindsey Oberacker (Erie/McDowell) had 11 kills and Zoe Hughes (Butler/Knoch) had nine. Katie Geary (Pittsburgh/Shaler) totaled 32 assists while Margaret Gillooly (Cranberry Twp./Seneca Valley) and Amanda Ardinger (Moon/Moon Area) had 12 and 11 digs, respectively.
Versus Trinity Christian, Oberacker added 12 kills, Geary tallied 44 assists and Ardinger posted 18 digs.
Geary handed out 49 assists in the win over Florida College, and Ardinger led the defense with 22 digs. Oberacker chipped in 15 kills and three blocks, and Rachel Stedina (South Beaver/Blackhawk) registered a career-high seven blocks.
Point Park entered the day having lost three of its last four, but will look to keep the momentum going Saturday. The Pioneers play host Clearwater (Fla.) Christian Saturday at 9:30 a.m., and although they face Highlands Community College at 11:30 a.m., that match does not count toward the team's record because it is versus a community college.
9