Pioneers rally to beat UNOH in first round of AMC tournament
Nov. 13, 2009
MT. VERNON, Ohio - The Point Park University volleyball team rallied past Northwestern Ohio, 3-2, Friday in the first round of the American Mideast Conference tournament hosted by Mt. Vernon Nazarene.
Point Park (31-7) trailed, 2-1, but rallied to take the final two sets in winning by scores of 23-25, 25-23, 23-25, 25-18, 15-10.  The victory extends Point Park's winning streak to 11 matches.
BOX SCORE ,  AMC TOURNAMENT BRACKET
Fourth-seeded Point Park will play top seed and host Mt. Vernon Nazarene in the semifinals of the five-team tournament Saturday at 11 a.m. Northwestern Ohio (27-13), the No. 5 seed, was eliminated.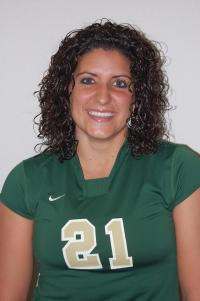 The AMC championship match will be held Saturday at 5 p.m. with the winner receiving the conference's second bid to the NAIA tournament. Regular season champion Shawnee State (12-0 AMC) received the league's automatic bid.
Friday's victory was the Pioneers' first-ever victory in the AMC tournament. Point Park, which had an 8-4 conference record during the regular season, is in the AMC playoffs for the third time in the last four years. But the Pioneers took an 0-3 all-time AMC tourney record in Friday's match.
Before Friday, Point Park's last postseason victory came 13 years ago. The Pioneers last won a volleyball playoff match on Nov. 12, 1996 when they beat Roberts Wesleyan in the first round of the Keystone-Empire Collegiate Conference playoffs. Point Park lost in the second round that year.
Point Park's Rachel Roddy (Greensburg/Greensburg Salem) had an impressive performance Friday with 20 kills and eight digs. The junior right-side hitter (pictured) hammered home the final two points of the match and registered her fourth 20-kill match of the year. Her career high of 21 kills came against Florida College.
Freshman outside hitter Lindsey Oberacker (Erie/McDowell) tallied 17 kills and five blocks in her first career playoff match.
Point Park's middle hitter tandem of Ashley Zietak (Pittsburgh/Brashear) and Megan Lamens (New Baltimore/Berlin Bros.) combined for 23 kills and 10 blocks. Zietak had 14 kills and four blocks while Lamens had nine and six.
The Point Park defense had a strong day with a total of 10 blocks to go with a season-high 97 digs. Freshman libero Amanda Ardinger (Moon/Moon Area) totaled 28 digs, and freshman defensive specialist Alyssa Hall (Moon/Moon Area) added 16 digs. Sophomore setter Katie Geary (Pittsburgh/Shaler) recorded 63 assists and 12 digs.
The Pioneers have beaten Northwestern Ohio two times this year. Point Park defeated the Racers, 3-0, at home on Oct. 26.
In the semifinals, Point Park will play a Mt. Vernon Nazarene team that is on a 13-match winning streak. The Cougars were 33-7 overall and 10-2 in the AMC. Point Park lost at Mt. Vernon Nazarene, 3-2, earlier this year. Mt. Vernon won that match by scores of 28-26, 18-25, 25-19, 25-23. The Cougars are led by outside hitter Jackie Albrecht, who has been named the AMC Player of the Week four times in a row.