Lamens, Roddy and Oberacker named to All-AMC volleyball team
Nov. 17, 2009
CEDARVILLE, Ohio - Three Point Park University volleyball players were named to the All-American Mideast Conference volleyball team after voting results from the league's coaches were released Tuesday.
Captains Megan Lamens (New Baltimore/Berlin Bros.) and Rachel Roddy (Greensburg/Greensburg Salem) were each named to the All-AMC first team while Lindsey Oberacker (Erie/McDowell) was selected to the All-AMC second team and the All-AMC freshmen team.
ALL-AMC TEAM , ALL-AMC FRESHMEN TEAM
Lamens (pictured left), Roddy and Oberacker led the Pioneers to the most successful season in school history. Point Park (32-8) set a school record for victories and reached the finals of the AMC tournament last weekend. The Pioneers were within one win of earning a berth in the NAIA tournament, but they lost to Walsh, 3-2, in the AMC championship match.
The All-AMC first and second teams each included 12 players and there were also 12 players who earned All-AMC honorable-mention honors. Oberacker was one of eight honorees on the All-AMC freshmen team.
Lamens, a senior middle hitter, received all-conference honors for the second straight year and it was the first time that she earned first-team accolades. In 2008, she was an All-AMC honorable-mention pick in her first season at Point Park since transferring from Juniata.
Roddy, a junior right-side hitter, is a first-team selection for the first time in her career. As a freshman in 2007, she was an All-AMC North honorable-mention pick and a selection to the All-AMC North freshmen team.
Oberacker, a freshman outside hitter, is only the second Point Park freshman to be recognized as high as a second-team, all-conference selection. Only teammate Ashley Zietak (Pittsburgh/Brashear) was selected higher as a freshman when she was named to the All-AMC North first team in 2007.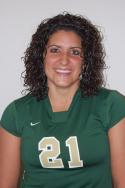 Lamens finished sixth in the voting for AMC Player of the Year, which went to Mt. Vernon Nazarene outside hitter Jackie Albrecht. Lamens placed just outside of the top four places, which would have qualified her as a candidate for NAIA All-American consideration.
Lamens registered career highs in kills with 463 and blocks with 118 in addition to posting a hitting percentage of .346. She ranked in the top six in the AMC in each of those categories. Lamens ranked 30th in the NAIA in hitting percentage and 32nd in total kills.
Lamens finished her career with 1,211 kills, 297 blocks and a hitting percentage of .321. As a sophomore at Juniata, she was named second-team All-Landmark Conference. The year before, she helped her team to the NCAA Division III title.
Roddy (pictured above right) finished her second year as a team captain with strong numbers on offense and defense. She totaled 439 kills and 402 digs. She was ninth in the AMC in kills, and her 43 service aces ranked sixth in the league. As a three-year starter, Roddy has 1,183 kills and 1,333 digs in her career.
Oberacker ranked third among AMC freshmen with 415 kills. Overall, she was 12th in the conference in kills and 13th in hitting percentage at .292. Oberacker tied Roddy for the team lead in service aces with 43, and she also tallied 77 blocks.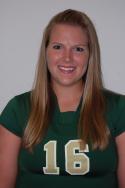 Lamens, Roddy and Oberacker (pictured below right) were the biggest hitters on a Point Park offense that ranked sixth in the country in total kills. With three All-AMC performers who each put up more than 400 kills on the year, the Pioneers totaled 1,576 kills as a team.
Despite ranking third in the NAIA in total assists with 1,576, Point Park setter Katie Geary (Pittsburgh/Shaler) did not get any All-AMC consideration. There were four setters who were either on the first or second team.
Zietak, a junior middle hitter, missed out on All-AMC recognition after missing 20 matches in the middle of the season with a hand injury. Upon her return, Zietak, elevated her game to an all-conference level down the stretch to help Point Park reach the AMC tournament championship match. She earned All-AMC third team honors in 2008 and was the All-AMC North Freshman of the Year in 2007.
After Albrecht, other AMC players who are candidates for NAIA All-American are Heather Koehler (OH) and Haley Holcomb (S) from Shawnee State and Julianne O'Donnell (OH) from Walsh.
Kristy Kamer was named AMC Coach of the Year after leading Shawnee State to the regular season championship with a record of 33-3 overall and 12-0 in the conference.
Holcomb was named the AMC Setter of the Year, and Kelly Oldiges of Northwestern Ohio was picked as the Libero of the Year. O'Donnell was selected the AMC Freshman of the Year.