Pioneers hope to build on success of 2009 volleyball season
Jan. 14, 2010 
The Point Park University volleyball team is just a few months removed from the most successful season in program history. After experiencing a taste of success in 2009, the Point Park volleyball team hopes to enjoy continued progress with the foundation that was laid during its best season ever.
Point Park enjoyed a 32-8 season last fall, which included a run to the championship match of the American Mideast Conference tournament.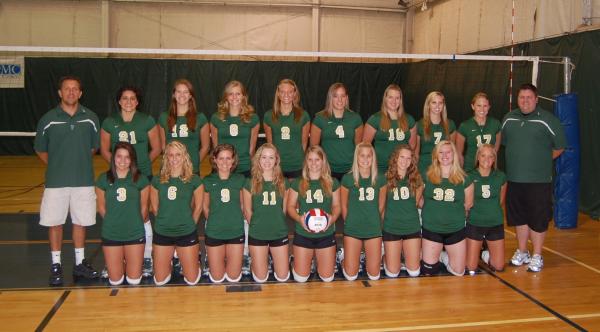 The Pioneers set a new standard of volleyball at Point Park including establishing a school record for victories in a season and consecutive wins. Point Park won a program-best 15 consecutive matches in September and took a 12-match winning streak into the AMC title match.
In a testament to how the program has been elevated under head coach Mike Bruno, the Pioneers produced a winning record for the third straight year - something that had never been done in school history. Bruno, who completed his fifth year at Point Park after the 2009 season, has guided Point Park to the AMC tournament in three of the last four seasons.
"I am very proud of this group of ladies," said Bruno, who has a career record of 220-140 in 10 years as a head volleyball coach on the collegiate level. "Over the course of a long season, they grew as a team and peaked at the right time.
"We had a slow start to the season, particularly once conference play started, but we turned it around and learned how to win."
After bowing out early in previous AMC tournaments, the Pioneers made it to the championship match in 2009 after outlasting Northwestern Ohio, 3-2, and knocking off host team and top seed Mt. Vernon Nazarene, 3-1.
Point Park lost a close, five-set match to Walsh - the only team to beat the Pioneers twice - in the championship round and was just a few points shy of qualifying for the NAIA national tournament for the first time his school history.
Point Park figures to be a factor in the AMC in the coming years after experiencing success with a relatively young team last fall. The Pioneers lose only one player from their 32-8 team, senior middle hitter Megan Lamens. The native of New Baltimore, Pa., was an All-AMC first team pick and an honorable-mention AVCA NAIA All-Northeast Region selection.
"Playing in important matches this past year will give our players confidence for the future," said Bruno. "They have seen themselves doing well in those situations. But each group has to re-establish itself every year to be an AMC contender."
Joining Lamens on the all-conference first team was junior right-side hitter Rachel Roddy (Greensburg/Greensburg Salem). Freshman outside hitter Lindsey Oberacker (Erie/McDowell) earned a spot on the All-AMC second team and was also tabbed to the All-AMC freshman team.
With Lamens, Roddy and Oberacker each putting up more than 400 kills on the season, the Point Park offense ranked among the national leaders in kills. Sophomore setter Katie Geary (Pittsburgh/Shaler) directed the Point Park attack and ranked sixth nationally with a career-high 1,576 assists.
Defensively, the Pioneers had a strong back-row unit primarily made up of Roddy and a trio of freshman: Amanda Ardinger (Moon/Moon Area), Margaret Gillooly (Cranberry Twp./Seneca Valley) and Alyssa Hall (Moon/Moon Area). Those four players were the team leaders in digs and made Point Park one of the most well-balanced teams in the conference.
Other top performers included junior middle hitter Ashley Zietak (Pittsburgh/Shaler), who joined Lamens and Roddy as a team captain, and sophomore outside hitter Zoe Hughes (Butler/Knoch).
Zietak was injured for much of the season, but she came on strong down the stretch during the team's playoff run. She is just two years removed from being tabbed the AMC North Freshman of the Year in 2007. Hughes joined Roddy and Oberacker as the only Point Park players with more than 200 kills and 100 digs.
The Pioneers' strong play helped them win championship in four regular season tournaments, including a sweep as the host team of the first-ever Hampton Inn-Pioneer Invitational.
Point Park will take a couple of winning streaks into next year. The Pioneers were 11-0 in home matches last year, and they have won 12 consecutive matches at Greentree SportsPlex dating back to October of 2008. Also, Point Park has won its last 22 non-conference matches after starting the 2009 season with three losses in a row.
Most of all, the Pioneers hope their taste of success in 2009 leads to even bigger and better things in the years to come.
"Success breeds success," said Bruno. "And I hope some of our recent accomplishments will continue to draw better-quality student-athletes who will continue the program's ascent to the top of the AMC.