Pioneers complete regular season with tri-match sweep, extend win streak to 10
Nov. 7, 2009
ROCHESTER, N.Y. -- The Point Park University volleyball team concluded the regular season on a strong note by picking up two victories in a tri-match at Roberts Wesleyan Saturday.
The Pioneers (30-7 overall, 8-4 AMC) started the day with a 3-1 victory over host Roberts Wesleyan in an AMC match, and extended its winning streak to 10 matches with a 3-0 win over Rio Grande in a non-conference showdown.
BOX SCORES: at Roberts Wesleyan, vs. Rio Grande
Point Park has won 14 of its last 15 matches dating back to Oct. 9. Point Park's current 10-match winning streak is five victories shy of the Pioneers' season-long winning streak of 15 matches that was set from Sept. 2 to Sept. 29.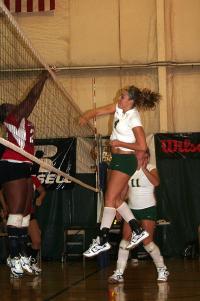 Point Park will now turn its attention to next weekend's American Mideast Conference playoffs, which will be held Friday and Saturday at Mt. Vernon Nazarene University.
The Pioneers won their final six conference matches after a 2-4 start to finish with an 8-4 league mark. Other AMC teams with an 8-4 record include Cedarville, Walsh and Northwestern Ohio.
Point Park clinched a spot in the five-team AMC tournament with Tuesday's win over Ursuline. Regular season champion Shawnee State will get an automatic bid to the NAIA tournament, and teams in places two through six will play an single-elimination tournament with the winner receiving the conference's other NAIA bid.
The official AMC tournament pairings will be released early next week. Because of the four teams tied at 8-4, a review of the AMC tiebreaking rules by the conference's chairs will determine the final order of the standings.
Based on an unofficial determination, Point Park will likely end up in fifth place and draw a matchup with sixth-place Northwestern Ohio in the first round of the AMC tournament Nov. 13. Point Park defeated the Racers, 3-0, Oct. 26.
Point Park joined Mt. Vernon Nazarene as the only 30-win teams in the AMC by sweeping Saturday's tri-match.
Ashley Zietak (Pittsburgh/Brashear) had a strong day for the Pioneers Saturday. The junior middle hitter (pictured above) registered 10 kills and four blocks to lead Point Park over Roberts Wesleyan. Zietak posted an attacking percentage of .500 in the opening match, which was outdone in the second match with a 13-kill performance that included a .709 hitting percentage. Zietak recorded three blocks versus Rio Grande.
In the win over Roberts, Point Park's offense included 11 kills from Megan Lamens (New Baltimore/Berlin Bros.), 10 kills from Rachel Roddy (Greensburg/Greensburg Salem) and nine kills each from Lindsey Oberacker (Erie/McDowell) and Kirsten Burkes (Robinson/Montour).
Katie Geary (Pittsburgh/Shaler) totaled 45 assists versus Roberts and 38 assists and nine digs versus Rio Grande. The sophomore setter has helped the Point Park offense rank in the top 15 in the NAIA in kills. 
Libero Amanda Ardinger (Moon/Moon Area) led the team with 20 digs verus Roberts Wesleyan. Margaret Gillooly (Cranberry Twp./Seneca Valley) totaled 16 digs and Roddy chipped in 14.
Lamens registered 11 kills and a .647 hitting percentage versus Rio Grande while Roddy had 10 kills and four blocks. Ardinger led the team with 13 digs.
In the AMC tournament, the winner of the Nov. 13 match that pits the No. 5 team versus the No. 6 team will face the No. 2 team in the semifinals the following day. The other semifinal match on Nov. 14 includes the No. 3 team and the No. 4 team. The championship match is the third match of the day on Nov. 14.
Note: Last week, the NAIA awarded Point Park a forfeit victory over La Roche for a match that was scheduled for Oct. 22 at Greentree SportsPlex.