Rachel Roddy, Angela Nelson named Daktronics-NAIA Scholar-Athletes
Dec. 4, 2009
KANSAS CITY, Mo. - Point Park University volleyball players Rachel Roddy and Angela Nelson were named 2009 Daktronics-NAIA Volleyball Scholar-Athletes Friday. In all, there are 304 volleyball players in the nation who have received that honor.
Roddy and Nelson, who are both juniors, received NAIA Scholar-Athlete honors in the first year in which they were eligible. In order to be recognized as an NAIA Scholar-Athlete, students must maintain a grade-point average of at least 3.5 and achieve junior status academically.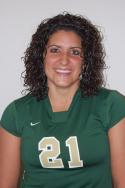 Roddy (pictured left) is a junior right-side hitter from Greensburg and a graduate of Greensburg Salem High School. She is majoring in elementary education.
Nelson is a junior defensive specialist from Meadville and a graduate of Meadville High School. She is majoring in advertising and public relations.
Roddy is a two-year captain, and last month she was named to the All-American Mideast Conference first team. The 5-9 right-side hitter was second on the team with a career-high 439 kills, and she also totaled 402 digs. For her career, the three-year starter has 1,183 kills and 1,333 digs.
This year, Roddy joined the Point Park women's basketball team for the first time in her career. Roddy, a forward, was a standout basketball player in high school.
Nelson (pictured below) appeared in eight matches this past year, and she has played in 29 matches as a backup defensive player over the last three seasons.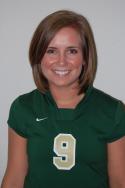 Last summer, Nelson received the unique honor of being selected one as of the 13 NAIA student-athletes who participated in the 2009-10 Red Cross/NAIA Youth Leadership Program. As part of the program, Nelson joined the other student-athletes for two weeks of leadership training in Washington, D.C.
Nelson received scholarship support from the Red Cross, which taught her leadership techniques and how to conduct an on-campus blood drive. Last month, Nelson organized a blood drive on the Point Park campus that set a record for the amount of blood collected.
The Point Park volleyball team recently completed a 32-8 season that included an appearance in the AMC championship match. The Pioneers set school records for victories in a season and consecutive wins with a 15-match winning streak in September.
For a complete list of 2009 Daktronics-NAIA Volleyball Scholar-Athletes, visit the link below:
http://naia.cstv.com/auto_pdf/p_hotos/s_chools/naia/sports/w-volley/auto_pdf/2009VBScholarAthletes