Point Park's Megan Lamens earns honorable mention all-region honors
Dec, 7, 2009
PITTSBURGH - Point Park University senior middle hitter Megan Lamens received honorable mention honors for the AVCA NAIA All-Northeast Region volleyball team over the weekend.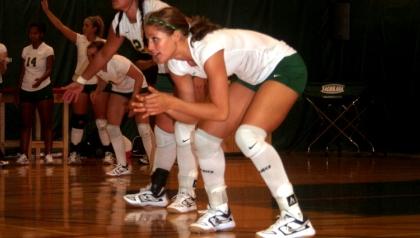 Lamens, pictured above, is a native of New Baltimore, Pa., and a graduate of Berlin Brothersvalley High School.
This most recent recognition caps off Lamens' outstanding volleyball career that included the last two years at Point Park. Lamens, who transferred to Point Park in 2008 after starting her career at Juniata, is only the second player in school history to receive all-region recognition from the AVCA.
Besides Lamens, the only other Point Park volleyball player to achieve all-region status was former middle hitter Jana Orlofske, who was an AVCA first-team all-region selection in 1996 and 1997. Orlofske was inducted into the Pioneer Athletic Hall of Fame in 2008.
Last month, Lamens was named first team All-American Mideast Conference after ranking in the top six in the league in kills, hitting percentage and blocks. The 6-0 middle hitter was sixth in the voting for AMC Player of the Year, which was awarded to Mt. Vernon Nazarene outside hitter Jackie Albrecht.
Albrecht was named the NAIA Northeast Region Player of the Year, and she was joined on the all-region first team by the other three players who finished in the top four of the AMC Player of the Year voting.
The NAIA All-Northeast Region first-team included 14 players, and there was not a second team.
As a senior captain, Lamens led Point Park with career highs for kills (463), hitting percentage (.346) and blocks (118). She ranked 30th in the NAIA in attacking and 32nd in total kills.
With Lamens' leadership Point Park (32-8, 8-4 AMC) had the most successful volleyball season in school history. Lamens led Point Park to the finals of the AMC tournament and helped establish a school record for wins in a season and consecutive victories with 15 straight wins in September.
She finished her four-year career with 1,211 kills, 297 blocks and a hitting percentage of .321. In her first year at Point Park, Lamens had 403 kills and 73 blocks. She received All-AMC honorable mention recognition in 2008.
While at Juniata, she was named second-team All-Landmark Conference as a sophomore. The year before, she helped her team win the NCAA Division III volleyball championship.
For a complete list of the AVCA NAIA All-Region teams, click the link below:
http://www.avca.org/awards/divisional-/naia-all-region/