Pioneers extend streak to eight in tourney sweep, Lamens named MVP
Sept. 12, 2009
PITTSBURGH - The Point Park University volleyball team won two matches in its own tournament Saturday to finish off a weekend sweep of Hampton Inn-Pioneer Invitational at Greentree SportsPlex. In the process, the Pioneers extended their winning streak to a school-record eight matches.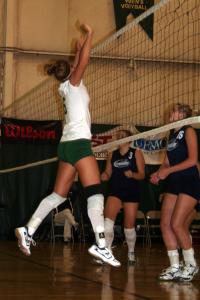 Point Park (8-3) defeated Davis & Elkins, 3-0, and topped Fairmont State, 3-1, on Saturday to complete a perfect, 3-0 record at the weekend event. The Pioneers defeated Lake Erie, 3-0, on Friday to open the tourney.
Point Park topped Davis & Elkins 25-22, 25-16, 25-17 and beat Fairmont State, 25-19, 25-11, 22-25, 25-17 on Saturday.
Point Park has won eight matches in a row after an 0-3 start. By winning their eighth-straight match, the Pioneers bested the previous school record for consecutive victories by one win. Point Park won seven matches in a row on its way to going 25-14 in 2007.
The Pioneers' win streak is the longest current win streak in the American Mideast Conference.
Point Park had a perfect record at a tournament for the second straight weekend. Last week, the Pioneers went 4-0 at the Davis & Elkins Tournament. This weekend marked the first time that Point Park hosted a volleyball tournament.
The Pioneers will look to extend their streak to nine matches Wednesday by playing host to Davis & Elkins (7 p.m.). That match versus the Senators wraps up a tough stretch of Point Park's schedule in which the Pioneers' first 12 opponents are NCAA Division II members.
Point Park middle hitter Megan Lamens (New Baltimore/Berlin Bros.) was named the tournament MVP after turning in an impressive weekend. Lamens (pictured above) registered 32 kills, 16 blocks and a .426 hitting percentage in three matches.
Lamens' best match came against Fairmont State Saturday when she turned in 15 kills and a career-high seven blocks. The senior captain had a .560 hitting percentage in that match.
Rachel Roddy (Greensburg/Greensburg Salem) was also named to the all-tournament team with 35 kills and 28 digs on the weekend. A junior right-side hitter, Roddy posted 13 kills, six digs and four blocks in Saturday's win over Davis & Elkins.
Other top performers versus Davis & Elkins included Zoe Hughes (Butler/Knoch), who had nine kills and four digs. Katie Geary (Pittsburgh/Shaler) tallied 32 assists while Lamens added eight kills and four blocks.
The Point Park defense was led by Amanda Ardinger (Moon/Moon Area) and Margaret Gillooly (Cranberry Twp./Seneca Valley), who combined for 30 digs, and Rachel Stedina (South Beaver/Blackhawk), who had a career-high five blocks. The Pioneers had 18 blocks as a team versus the Senators.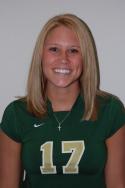 In the victory over Fairmont State, Hughes (pictured right) turned in a career-high 18 kills and also added eight digs. The sophomore outside hitter had a .500 hitting percentage for the match.
Geary handed out 47 assists, and Roddy recorded 14 digs and nine kills.
Ardinger and Alyssa Hall (Moon/Moon Area) had 13 and 11 digs respectively. Led by Lamens' career-high seven blocks, Point Park totaled 17 blocks versus the Fighting Falcons.
The Pioneers registered a .383 team hitting percentage versus Fairmont State. Point Park hit .682 on its way to winning the second set, 25-11.
In other tournament matches Saturday, Fairmont State swept Lake Erie, 25-20, 25-23, 25-21. Also, Davis & Elkins rebounded from dropping the first two sets to beat Lake Erie in five, 19-25, 24-26, 25-19, 25-19, 15-9.
Other members or the all-tournament team included Meagan Gibson (OH) and Lizzy Flynn (S) from Fairmont State, and Haley Snyder (OH) and Mary Walter (OH) from Davis & Elkins and Lake Erie, respectively.