Bruno reaches 200th victory milestone, Pioneers continue hot streak
Sept. 18, 2009
PITTSBURGH - The Point Park University volleyball team continued its impressive winning streak Saturday, and Pioneers' head coach Mike Bruno eclipsed the 200-win milestone for his career.
Point Park (13-3) won a pair of matches at the Carnegie Mellon Crossover to extend its school-record winning streak to 13 matches. The Pioneers swept Muskingum, 25-22, 25-15, 25-12 to notch Bruno's 200th career win, and they swept Westminster, 25-13, 25-21, 25-20, to register their 13th consecutive victory.
BOX SCORE vs. MUSKINGUM , BOX SCORE vs. WESTMINSTER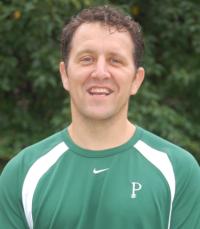 Bruno (pictured left), who in his fifth season at Point Park and his 10th season as a head coach on the college level, has a career record of 201-135 (.598). Bruno has a record of 85-77 at Point Park, and he compiled a record of 116-58 in five seasons at Waynesburg from 2000-04.
With 85 victories at Point Park, Bruno holds the school record for wins. He is the longest-tenured coach in the history of the program, which was started in 1991. This year, Bruno has a chance to lead the Pioneers to their third-straight winning season, something that has never been done in school history.
Bruno has been named Coach of the Year on four occasions. He was the American Mideast Conference North Division Coach of the Year in 2006, and he won the same award in the President's Athletic Conference in 2004, 2003 and 2000 while at Waynesburg.
For the third-straight weekend, Point Park went undefeated in a tournament. The Pioneers went 4-0 at the Davis & Elkins Tournament Sept. 4-5, and they had a 3-0 record at their own tournament, the Hampton Inn-Pioneer Invitational, last weekend.
Friday at the Carnegie Mellon Crossover, Point Park defeated Frostburg State, 3-1, and topped John Carroll, 3-0.
Point Park has not lost since Aug. 29, when it finished up the Clarion Tournament with an 0-3 record. The Pioneers started the longest current winning streak in the AMC by beating Fairmont State, 3-2, Sept. 2. Point Park lost the first two sets of that match, but rebounded to earn its first win of the year.
In the milestone victory versus Muskingum, Point Park setter Katie Geary (Pittsburgh/Shaler) had 41 assists, six digs and two aces.
Rachel Roddy (Greensburg/Greensburg Salem) totaled 12 kills and 14 digs to record her sixth match this year with double-digit kills and digs.
Lindsey Oberacker (Erie/McDowell) had 10 kills and three blocks while Megan Lamens (New Baltimore/Berlin Bros.) added nine kills. Zoe Hughes (Butler/Knoch) tallied eight digs and seven kills.
Margaret Gillooly (Cranberry Twp./Seneca Valley) had a career-high 20 digs as she and fellow freshmen defensive specialists Amanda Ardinger (Moon/Moon Area) and Alyssa Hall (Moon/Moon Area) combined for 44 digs.
In the victory over Westminster, Geary had 39 assists and 11 digs. Lamens chipped in 12 kills and six blocks, and Roddy totaled 11 kills and five digs.
Hughes and Oberacker added nine and eight kills, respectively, and Ardinger led the team with 13 digs.
Point Par will try to continue its winning streak in its AMC opener Tuesday. The Pioneers play host to Carlow (7 p.m.) at Greentree SportsPlex.
After Tuesday's match versus the Celtics, Point Park will take nearly five days off due to the Pittsburgh Summit. Point Park is closing its campus from Sept. 23-26, and no athletic events or practices will be held during that time.
Point Park had originally scheduled to host Northwestern Ohio Friday, but that match has been reschedule to Oct. 26. After the layoff, Point Park will welcome Notre Dame (Ohio) for a key AMC match Sept. 29.