Pioneers keep streak alive in AMC victory over Notre Dame (Ohio)
Sept. 29, 2009
PITTSBURGH - The Point Park University volleyball team extended its school-record winning streak to 15 matches Tuesday with a 3-1 victory over Notre Dame (Ohio) in an AMC match at Greentree SportsPlex.
Point Park (15-3 overall, 2-0 AMC) remained unbeaten at home by beating Notre Dame, 25-15, 16-25, 25-22, 25-22. The Pioneers are a perfect, 6-0 at Greentree SportsPlex, and they have not lost since Aug. 29 when they dropped their third-straight match at the Clarion Tournament.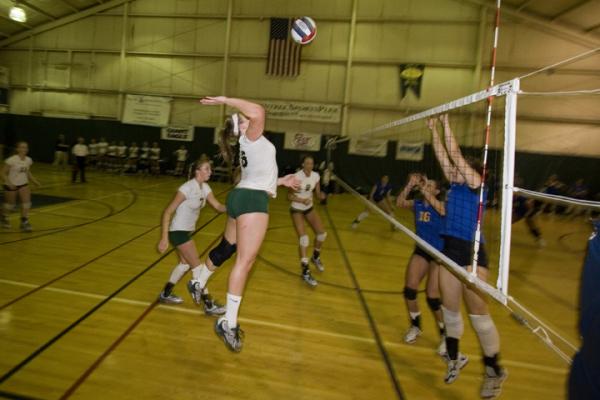 The Pioneers defeated Notre Dame for the second straight season. Last year's 3-1 win over the Falcons was Point Park's first-ever victory over the AMC rival since joining the conference in 1999.
Rachel Roddy (Greensburg/Greensburg Salem) turned in an impressive performance to help Point Park continue the longest-current winning streak in the AMC. The junior right side hitter posted a career-high 20 kills to go along with 14 digs. Roddy's previous career-high of 19 kills came in 2007 versus Malone.
Zoe Hughes (Butler/Knoch) tallied 10 kills and 13 digs. Hughes' 10th kill of the match set up a match-point scenario for the Pioneers.
Point Park setter Katie Geary (Pittsburgh/Shaler) recorded 49 assists and led an offense that had four players with double-digit kills. Lindsey Oberacker (Erie/McDowell) and Megan Lamens (New Baltimore/Berlin Bros.) had 11 and 10 kills, respectively. Lamens added five blocks.
Defensively, Amanda Ardinger (Moon/Moon Area), Margaret Gillooly (Cranberry Twp./Seneca Valley) and Alyssa Hall (Moon/Moon Area) combined for 54 digs. Ardinger led the way with a team-high 31 digs while Gillooly and Hall had 12 apiece.
Point Park played its first match in a week after taking more than five days off due to the G-20 Summit. Point Park's campus was closed from Sept. 23-26 because of the international event, and no practices or games were held during that time.
The Pioneers make an AMC road trip this coming weekend. Point Park visits Cedarville Friday for an AMC match at 7 p.m. On Saturday, the Pioneers travel to Shawnee State for at tri-match. Point Park plays host Shawnee State in an AMC matchup at 11 a.m. and faces non-conference opponent Ohio Dominican at 1 p.m.
Pictured above, Lindsey Oberacker registers one of 12 kills versus Notre Dame (Ohio). Photo by Murphy Moschetta.