Bruno to complete Awareness Walk to benefit ROPARD
Sept. 30, 2009
PITTSBURGH - Point Park University volleyball coach Mike Bruno will complete an Awareness Walk Sunday as a prelude to this year's Volley for Vision event, and all proceeds will benefit the Association for Retinopathy of Prematurity and other Related Diseases (ROPARD).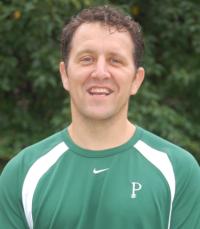 For the Awareness Walk, Bruno will complete a 25-mile hike on the Montour Run Trail. During his walk, Bruno will wear a blindfold to raise awareness for ROPARD, which is dedicated to eliminating problems of low vision and blindness in children related to premature birth.
CLICK HERE TO WATCH A VIDEO CLIP AT VOLLEYFORVISION.ORG
Bruno hopes to raise interest and awareness for this year's Volley for Vision event by completing his blindfolded walk. During his trek, Bruno will be guided by Point Park men's and women's soccer coach Jeroen Walstra, who will help keep the journey on track.
The Awareness Walk will begin at 9 a.m. at the Coraopolis access point, and it will finish up at mile marker 25 near the McConnell Road access point.
All donations for the Awareness Walk will be donated to ROPARD, and donations can be made in a flat rate or on a per-mile basis. Donations can be made on the official Volley for Vision Web site, www.volleyforvision.org.
The Point Park volleyball team will host its Volley for Vision event Oct. 31 during an American Mideast Conference match versus Houghton (1 p.m.).  This is the second consecutive year that the Pioneers will host such an event, and last year they raised more than $3,600 for ROPARD.
Volley for Vision is inspired by Bruno's three-year old daughter, Cassie. As a result of Cassie's premature birth in November of 2006, she suffered retinopathy of prematurity and is legally blind.
To hear Cassie's story and to learn more about the event, watch the video that is posted on the Volley for Vision Web site.
Volley for Vision was created by the Point Park volleyball program, and after last year's inaugural event hosted by the Pioneers, other collegiate teams around the country have taken the initiative to host their own Volley for Vision events.
ROPARD has as its goal to fund the clinically relevant research to understand, treat and prevent retinopathy of prematurity and related retinal diseases. It is supported solely by private contributions administered by its Board of Trustees.
As part of the Volley for Vision, the Point Park volleyball players and staff will be soliciting donations to support ROPARD. One-hundred percent of all money raised will go directly to ROPARD.
Donations for Volley for Vision can be made in a flat rate or on a per-dig basis. If the donations are made on a per-dig basis, the total donation will equal the amount pledged per dig multiplied by the number of digs that Point Park records in the Oct. 31 match versus Houghton. Digs are a defensive statistic in volleyball.
In last year's Volley for Vision, Point Park recorded 63 digs in a 3-1 victory over Notre Dame (Ohio).