Pioneers to host Hampton Inn-Pioneer Invitational this weekend
Sept. 11, 2009
PITTSBURGH -- The Point Park University volleyball team will host the Hampton Inn-Pioneer Invitational this weekend at Greentree SportsPlex. The event features three NCAA Division II teams -- Lake Erie, Fairmont State and Davis & Elkins -- and it marks the first time that Point Park will be hosting a volleyball tournament.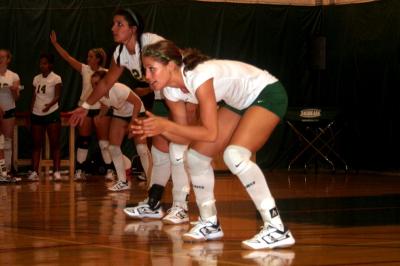 Tournament play begins Friday with two matches. Point Park (5-3) plays Lake Erie (6-5) at 3 p.m. while Davis & Elkins (3-6) faces Fairmont State (7-3) at 5 p.m.
Play continues Saturday with four matches. Fairmont State squares off with Lake Erie at 10 a.m. followed by a match between Point Park and Davis & Elkins at 12 p.m. The tournament wraps up with Lake Erie versus Davis & Elkins at 2 p.m. and Fairmont State at Point Park at 4 p.m.
Point Park enters its tournament riding a five-match winning streak, which is the longest current streak in the American Mideast Conference. The first 12 opponents on the Pioneers' schedule are Division II teams, and they will try to continue their success this weekend.
Follow the tournament all weekend long on the Point Park athletic website. Visit this site for scores, stories and the announcement of the all-tournament team and MVP.
TOURNAMENT SCOREBOARD
Friday, Sept. 11, 2009
Point Park 3, Lake Erie 0 (25-21, 25-23, 25-22)
Fairmont State 3, Davis & Elkins 1 (25-19, 25-19, 23-25, 25-23)
Saturday Sept. 12, 2009
Point Park 3, Davis & Elkins 0 (25-22, 25-16, 25-17)
Point Park 3, Fairmont State 1 (25-19, 25-11, 22-25, 25-17)
Fairmont State 3, Lake Erie 0 (25-20, 25-23, 25-21)
Davis & Elkins 3, Lake Erie 2 (19-25, 24-26, 25-19, 25-19, 19-9)
ALL TOURNAMENT TEAM
Megan Lamens (MVP), MH, Point Park
Rachel Roddy, RS, Point Park
Meagan Gibson, OH, Fairmont State
Lizzy Flynn, S, Fairmont State
Haley Snyder, OH, Davis & Elkins
Mary Walter, OH, Lake Erie
DAILY RECAPS
To read recaps of the weekend's action, click the links below: