Pioneers open tourney by winning sixth straight match
Sept. 11, 2009
PITTSBURGH - The Point Park University volleyball team extended its winning streak to six matches with a 3-0 sweep of Lake Erie at the Hampton Inn-Pioneer Invitational at Greentree SportsPlex Friday.
Point Park (6-3) won by scores of 25-21, 25-23, 25-22 in winning the first match of its own tournament.  The Pioneers have won six matches in a row after an 0-3 start.
Lake Erie (6-6) is one of three teams Point Park is hosting in the weekend tournament. In Friday's other match, Fairmont State (8-3) defeated Davis & Elkins (3-7) in four sets, 3-1. Fairmont State won by scores of 25-19, 25-19, 23-25, 25-23.
Point Park has won six matches in a row for the first time since the 2007 season. The Pioneers were 25-14 that year, and that season included two separate winning streaks of six and seven matches.
For the Pioneers Friday, Rachel Roddy (Greensburg/Greensburg Salem) recorded 13 kills and eight digs. Zoe Hughes (Butler/Knoch) recorded 10 kills and two aces while Megan Lamens (New Baltimore/Berlin Bros.) chipped in nine kills and five blocks.
Lamens had a .438 hitting percentage for the match while Roddy (.407) and Hughes (.400) also had strong hitting performances.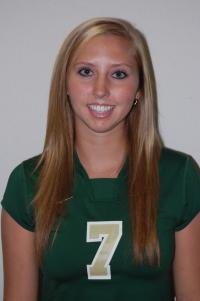 Katie Geary (Pittsburgh/Shaler) recorded 36 assists and eight digs. Geary entered Friday's match as the American Mideast Conference's leader in assists per game at 11.1. Geary is pictured at left.
On defense, Amanda Ardinger (Moon/Moon Area) had a team-high 14 digs.
Tournament play continues Saturday with four matches. Point Park faces Davis & Elkins (12 p.m.) and Fairmont State (2 p.m.). Other matches include Fairmont State vs. Lake Erie (10 a.m.) and Lake Erie vs. Davis & Elkins (2 p.m.).
Each of Point Park's first 12 opponents are NCAA Division II members.