Pioneers win ninth straight, extend school record for consecutive wins
Sept. 16, 2009
PITTSBURGH - The Point Park University volleyball team won for the ninth straight match by defeating Davis & Elkins, 3-1, in a non-conference match Wednesday at Greentree SportsPlex.
Point Park (9-3) extended its school record for consecutive wins by topping Davis & Elkins (5-9) by scores of 25-16, 22-25, 25-16, 25-20.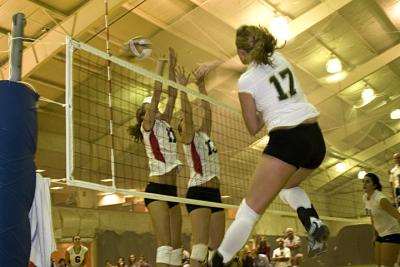 Pictured above, Point Park's Zoe Hughes powers it through a block Davis & Elkins. (photo by Murphy Moschetta)
The Pioneers have not lost since Aug. 29 when they finished the Clarion Tournament with an 0-3 record on the opening weekend of the season. Prior to the current streak, the school record for most wins in a row was seven, which was set in 2007.
Each of Point Park's first 12 opponents have been NCAA Division II members, and the Pioneers will look to extend their streak with four matches at this weekend's Carnegie Mellon Tournament. Point Park meets Frostburg State (2 p.m.) and John Carroll (6 p.m.) in Friday's action.
Point Park owns the longest current winning streak in the American Mideast Conference.
Megan Lamens (New Baltimore/Berlin Bros.) helped Point Park improve its home record to 4-0 by registering 12 kills and a career-high eight blocks. The senior middle hitter set her previous career high for blocks over the weekend on her way to being named the MVP of Point Park's Hampton Inn-Pioneer Invitational.
Katie Geary (Pittsburgh/Shaler) recorded 32 assists and seven blocks while Rachel Roddy (Greensburg/Greensburg Salem) added 11 kills and 10 digs. Amanda Ardinger (Moon/Moon Area) had a team-high 17 digs.
In losing the second set to Davis & Elkins Wednesday, the Pioneers dropped a game for just the third time in their last seven matches. Zoe Hughes (Butler/Knoch) helped Point Park take control of the fourth and deciding with her serve. Point Park scored points on 10 of her 12 serves in the final frame.
Point Park defeated Davis & Elkins, 3-0, on Saturday. The Pioneers won that match by scores of 25-22, 25-16, 25-17. The Senators entered Wednesday's match having won five of seven matches.