Roddy reaches 1,000-dig milestone, Pioneers win two matches
Sept. 4, 2009
ELKINS, W.Va. - The Point Park University volleyball team picked up two victories Friday at the Davis & Elkins Tournament, and Rachel Roddy eclipsed the 1,000-dig milestone for her career.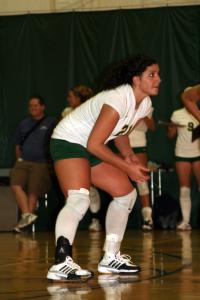 Roddy (Greensburg/Greensburg Salem) totaled 19 digs on the day in leading Point Park to a 3-2 victory over West Virginia Wesleyan and 3-0 win over West Liberty State. The junior outside hitter has 1,004 digs in her career.
Roddy is pictured at left in a match last year at Greentree SportsPlex.
Point Park (3-3) needed five sets to put away West Virginia Wesleyan, 20-25, 25-20, 25-21, 23-25, 15-11. The Pioneers swept West Liberty State by scores of 25-19, 25-21, 25-22.
Point Park has won three matches in a row after an 0-3 start. The Pioneers continue tournament play Saturday versus Ohio Valley (10 a.m.) and Ohio Dominican (2 p.m.).
Roddy had 17 kills, 10 digs and two aces in the first match Friday. She posted nine digs and seven kills in the nightcap to reach the milestone. A former all-state selection at Greensburg Salem, Roddy had a career-high 538 digs as a freshman and had 393 last year. She is second on the team with 73 digs this season.
Versus West Virginia Wesleyan, Ashley Zietak (Pittsburgh/Brashear) and Lindsey Oberacker (Erie/McDowell) each had nine kills. Megan Lamens (New Baltimore/Berlin Bros.) rounded out a solid performance by the frontline with seven kills and five blocks.
Katie Geary (Pittsburgh/Shaler) handed out 41 assists, and the defense was led by Alyssa Hall (Moon/Moon Area) and Amanda Ardinger (Moon/Moon Area), who had 25 and 17 digs, respectively.
In the second match of the day versus West Liberty State, Oberacker tallied 14 kills on the strength of a .542 hitting percentage. Zietak added 13 kills and two blocks, and Ali Gendron (Sheffield, Ohio/Brookside) added 10 kills.
Geary had 49 assists, and Hall chipped in 20 digs.