Pioneers complete 4-0 weekend at D&E Tournament, win fifth in a row
Sept. 5, 2009
ELKINS, W.Va. - The Point Park University volleyball team completed a 4-0 weekend at the Davis & Elkins Tournament with a pair of victories Saturday.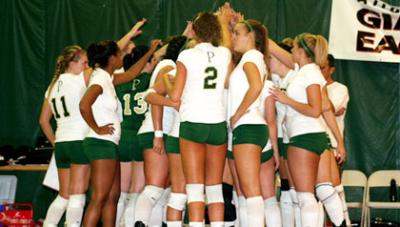 Point Park (5-3) started the day by sweeping Ohio Valley, 3-0, by scores of 25-18, 25-15, 25-10. The Pioneers finished the tourney with a 3-1 win over Ohio Dominican by scores of 25-19, 23-25, 25-22, 25-18.
Point Park has won five matches in a row after an 0-3 start. The Pioneers were the only team in the tournament field to go 4-0 on the weekend. Point Park beat Fairmont State, 3-2, Wednesday for its first win of the year.
The Pioneers' first 12 opponents are NCAA Division II members, and Point Park finishes up that tough stretch next weekend by hosting three matches at the Hampton Inn-Pioneer Invitational at Greentree SportsPlex.
An all-tournament team was not selected Saturday, but the members of the team will be announced in the nest few days.
In the first match of the day versus Ohio Valley, Rachel Roddy (Greensburg/Greensburg Salem) had 12 kills and five digs. Lindsey Oberacker (Erie/McDowell) added 10 kills, and Megan Lamens (New Baltimore/Berlin Bros.) tallied six kills and four blocks.
Sophomore setter Katie Geary (Pittsburgh/Shaler) handed out 34 assists to go with six digs.
Ali Gendron (Sheffield, Ohio/Brookside) posted five kills, four digs and two aces while Amanda Ardinger (Moon/Moon Area) contributed seven digs and four aces.
Versus Ohio Dominican, Roddy had 16 kills and 17 digs, and Lamens recorded 18 kills and three blocks.
Gendron and Rachel Stedina (South Beaver/Blackhawk) had 10 kills apiece to give the Pioneers four players with double-digit kills. Geary had 48 assists, and Ardinger chipped in 24 digs.
In the Hampton Inn-Pioneer Invitational next weekend, Point Park opens plays versus Lake Erie Friday at 3 p.m. Saturday's matches are versus Davis & Elkins (12 p.m.) and Fairmont State (4 p.m.).