Point Park volleyball sweeps CMU, reaches 25-win mark for third time in four years
Oct. 26, 2010
PITTSBURGH – The Point Park University volleyball team registered its third 25-win season in program history with Tuesday's non-conference sweep at cross-town rival Carnegie Mellon, 3-0.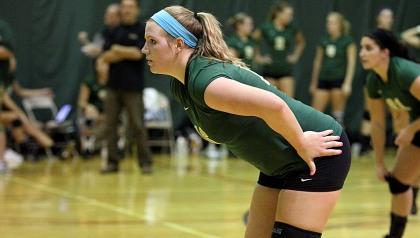 Pictured: Lindsey Oberacker had a team-high 14 kills in Tuesday's win. Photo by Chelsey Engel.
The Pioneers improved to 25-9 overall with the 25-18, 25-16, 25-19 victory. Carnegie Mellon, members of NCAA Division III, fell to 11-16 overall. Tuesday's match completes the non-conference schedule for Point Park, which was 22-6 in non-league play.
For Point Park, it is the third time in the last four years that it has reached the 25-win plateau. The Pioneers first got there in the 2007 at 25-14, and they were 32-8 a year ago. Point Park was 19-18 in 2008.
Point Park's Lindsey Oberacker, a sophomore from Erie, Pa., racked up 14 kills versus just two hitting errors for a blistering attacking percentage of .462. The all-conference selection from a year ago now has a career-high 426 kills on the year. She put up 415 kills as a freshman.
Senior right-side hitter Rachel Roddy, a native of Greensburg, Pa., posted 10 kills, and fellow senior captain Ashley Zietak from Pittsburgh had seven kills from her middle hitter position. Zietak hit .455 for the match.
Junior setter Katie Geary, a Pittsburgh native, tallied 38 assists. Freshman outside hitter Chelsea Katkich had six kills and seven service aces as the native of Imperial, Pa., accounted for 13 points.
Point Park takes a 3-3 American Mideast Conference record into Friday's home match versus AMC opponent Cedarville (4-2 AMC). The Pioneers and Yellow Jackets square off a 7 p.m. at Greentree SportsPlex in a match that has plenty of playoff implications.
The Pioneers will host a Youth Volleyball Night during Friday's home match. Youth volleyball players in the area are encouraged to come to Greentree SportsPlex to see the high-quality, collegiate volleyball match in Pittsburgh. Admission is free. A halftime serving contest will allow the youths a chance to win prizes.