Point Park outlasts Cedarville for key AMC volleyball victory, 3-2
Oct. 29, 2010
PITTSBURGH -- Point Park University outlasted Cedarville University, 3-2, Friday to pick up a key American Mideast Conference volleyball victory at Greentree SportsPlex.
Point Park improved to 26-9 overall and 4-3 in the AMC by edging Cedarville, 25-21, 22-25, 25-15, 23-25, 15-11. Cedarville, losers of three straight, fell to 13-15 overall and 4-3 in the AMC.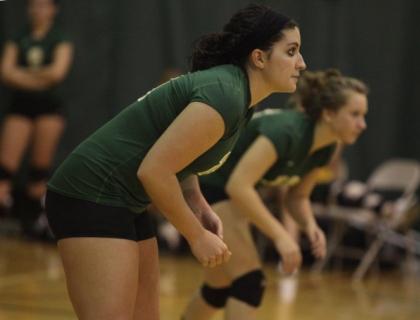 Pictured: Rachel Roddy had 23 kills in Point Park's victory. Photo by Chelsey Engel.
With the win, the Pioneers took over fourth place in the AMC and now hold the head-to-head tiebreaker over the two teams below them -- Cedarville and Daemen (4-4 AMC). Point Park swept Daemen, 3-0, Saturday.
The top five teams make the AMC postseason. If the standings were to remain the same, Point Park and Cedarville would meet again in the first round of the conference tournament Nov. 12..
Rachel Roddy (pictured) had a huge match for Point Park with a season-high 23 kills to go along with nine digs and five blocks. The senior right-side hitter from Greensburg, Pa., hit .413 for the match. She was also impressive on the receipt with zero errors in 22 receiving attempts.
Lindsey Oberacker, an outside hitter from Erie, Pa., racked up 14 kills, nine digs, seven blocks and four important aces. Senior middle hitter Ashley Zietak, a native of Pittsburgh, tallied 11 kills and five blocks.
Point Park had 14 total blocks as a team, and junior middle hitter Rachel Stedina (South Beaver/Blackhawk) led the way with nine total blocks. Stedina also had four kills.
Setter Katie Geary, a junior from Pittsburgh, recorded 49 assists and nine digs. Margaret Gillooly (Cranberry Twp./Seneca Valley) had a team-high 17 digs, and libero Amanda Ardinger (Moon Twp./Moon Area) added 11 digs.
Point Park took control of the match by taking the third set by 10 points. Cedarville jumped out to a big lead in the fourth, although the Pioneers were able to take a late lead before eventually losing. But Point Park won the first four points of the decisive fifth set and went on to take an 8-4 lead to assert control.
The Pioneers hit an impressive attacking percentage of .500 in the fifth set.
Point Park returns to action Tuesday in a Senior Night matchup with visiting Ursuline. The AMC match begins at 7 p.m., and the three seniors -- Roddy, Zietak and Angela Nelson -- will be honored. Fan Vans are available to transport Point Park students for free. Vans leave Alumni Park at 6:20 and 6:40 p.m.