Point Park's home winning streak ends with AMC loss to Walsh
Oct. 5, 2010
PITTSBURGH -- Point Park University volleyball's 16-match home winning streak came to an end Tuesday night when visiting Walsh topped the Pioneers, 3-1, in an American Mideast Conference match at Greentree SportsPlex.
Point Park (17-6 overall, 2-1 AMC) won the first set but lost the next three as Walsh took the match, 18-25, 25-19, 25-21, 25-20.
Walsh (14-5, 4-0 AMC) remained unbeaten in conference play and became the first team to beat Point Park on its home floor since Shawnee State accomplished the feat in a five-set win on Oct. 18, 2008.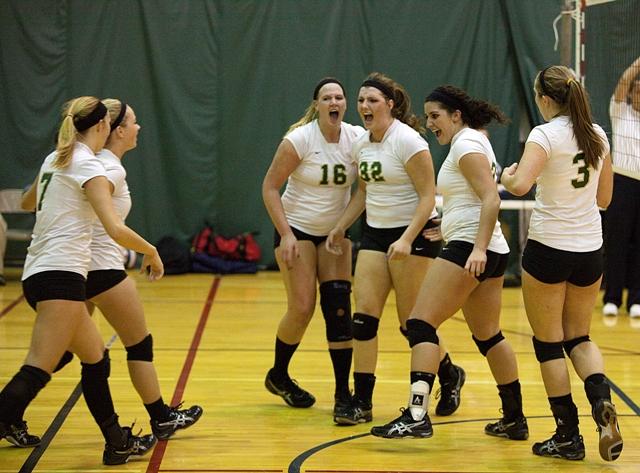 Point Park celebrates winning a point, but the Pioneers were unable to beat Walsh at Greentree SportsPlex.
Photo by Chelsey Engel. 
Point Park had won 16 consecutive matches at Greentree SportsPlex. The Pioneers were 11-0 at home last year -- 32-8 overall -- and they won their first four home dates this season.
Sophomore outside hitter Lindsey Oberacker (Erie, Pa./McDowell) led Point Park with 17 kills, nine digs and two blocks in what was a rematch of last year's AMC tournament championship match. Walsh won that match, 3-2, to earn a bid to the national tournament.
Senior outside Rachel Roddy (Greensburg/Greensburg Salem) totaled 13 kills and 14 digs, and freshman outside Chelsea Katkich (Imperial/West Allegheny) added 10 kills and four digs.
Junior setter Katie Geary (Pittsburgh/Shaler) had 40 assists and 13 digs. The defensive unit got 21 digs from libero Amanda Ardinger (Moon Twp./Moon Area) and 11 digs from Margaret Gillooly (Cranberry Twp./Seneca Valley).
Tuesday's match was played before a standing-room-only crowd mostly made up of students who came out for the promotion of USG T-Shirt Night. Point Park's United Student Government gave away free Point Park volleyball t-shirts to Point Park students while supplies lasted.
Point Park will take a break from AMC play this week as it visits the Clearwater (Fla.) Christian College Tournament in Clearwater, Fla. The Pioneers will play four matches in the event with two each coming Friday and Saturday.
The Pioneers resume AMC play Oct. 14 in a big match versus Mt. Vernon Nazarene. Fan Vans will be available for Point Park students to utilize for that match. Details about that can be found at the volleyball schedule posted at this site.