Point Park volleyball players spend time at Western PA School for Blind Children
Oct. 7, 2010
PITTSBURGH -- Members of the Point Park University volleyball team spent time visiting with kids at the Western Pennsylvania School for Blind Children on the morning of Oct. 5, 2010.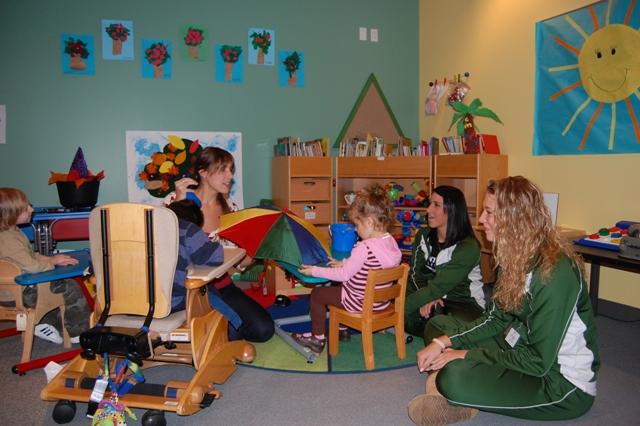 Pictured: Point Park volleyball players (left to right) Taylor Roddy and Rachel Stedina visit with children at the Western Pennsylvania School for Blind Children in Oakland. Cassie Bruno, the daughter of Point Park volleyball coach Mike Bruno, is pictured in the pink sweatshirt. Photo by Kevin Taylor, Point Park athletics
The Pioneers visited the elementary school in Oakland in advance of next weeknd's 3rd Annual Volley for Vision event, which is scheduled for a Tri-Match at Point Park Oct. 16.
The Point Park players made the trip to raise their awareness of the challenges faced by children with low vision and blindness. In addition to the players gaining valuable experience about the day-to-day lives of the kids, they also invited all the students to attend and participate at Volley for Vision.
Volley for Vision, which was created by the Point Park volleyball program and head coach Mike Bruno in 2008, has as its goal to raise money and awareness for the Association for Retinopathy of Prematurity and other Related Diseases (ROPARD).
ROPARD is dedicated to funding research and raising awareness for vision problems that are a result of premature birth. It is supported solely on the work of its board of directors and from private donations.
This year's Volley for Vision event will take place during a Tri-Match involving West Liberty and Urbana at Greentree SportsPlex. The Pioneers play West Liberty at 10 a.m. in what is designated as the "Volley for Vision Match." West Liberty faces Urbana at 12 p.m. followed by Point Park vs. Urbana at 2 p.m.
Proceeds from admission, merchandise sales and raffles will be donated directly to ROPARD in full.
Donations to ROPARD in support of Volley for Vision can be made several ways. Donations can be made at the event or in advance. Donations can be made in a flat rate, but Point Park volleyball players are also taking pledges that are per dig. A dig is a defensive statistic in volleyball, and the more digs that Point Park makes in the match, the more money will be raise for ROPARD.
Volley for Vision is one of the activities for Point Park's Family Weekend, which is scheduled for that weekend, Oct. 15-17. There will be free shuttles transporting students, families and other fans to Greentree SportsPlex. More information about Family Weekend can be found here: http://www.pointpark.edu/About/AdminDepts/PhysicalPlantFacilities/ConferenceEventServices/FeaturedEvents1/FamilyWeekend
The inspiration for Volley for Vision is the young daughter of Point Park volleyball head coach Mike Bruno. Cassie Bruno is a student at the Western PA School for Blind Children, and she is legally blind as a result of her premature birth in November of 2005.
To find out more about the event or to learn about how to donate, visit www.volleyforvision.org. Donation pledge sheets can be download at that site.

The video posted above was created by former Point Park broadcasting student Justin LaBar, who covered the first Volley for Vision during the 2008 season.