Pioneers finish weekend with 4-1 record with two victories at Clearwater (FL) Invite
Oct. 9, 2010
CLEARWATER, Fla. – The Point Park University volleyball team picked up a pair of victories on the final day of the Clearwater (Fla.) Christian Invitational to finish the weekend event with a record of 4-1.
The Pioneers (21-7) surpassed the 20-win mark for the third time in the last four years by beating Berry (Ga.) College and host Clearwater (Fla.) Christian each by a score of 3-1. Berry (18-7) and Clearwater Christian (18-8) both entered its match with Point Park as an 18-win team.
Box Score vs. Berry , Box Score vs. Clearwater Christian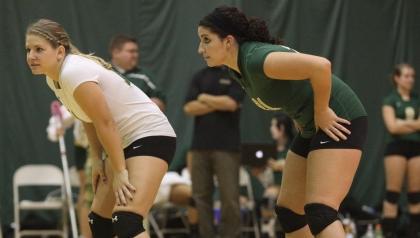 Pictured: Amanda Ardinger (left) and Rachel Roddy helped Point Park to a 4-1 weekend. Photo by Chelsey Engel.
Point Park lost the first set to Berry, but topped the NCAA Division III provisional school by scores of 24-26, 25-23, 25-17, 25-17. Senior outside hitter Rachel Roddy, a native of Greensburg, recorded 20 kills, 11 digs and three blocks in the victory.
The Pioneers topped Clearwater Christian, 25-23, 25-18, 22-25, 25-23. Sophomore outside hitter Lindsey Oberacker, from Erie, Pa., had a huge match with 22 kills and 17 digs.
Point Park opened the event by winning two of three matches Friday. The Pioneers topped Trinity (Fla.) College and local rival Carlow each by a score of 3-1 and lost to St. Thomas (Fla.) Univ. in a close, five-setter, 3-2. The member of the NAIA Sun Conference improved to 12-3 with the win.
Freshman outside hitter Chelsea Katkich (Imperial/West Allegheny) put up a career-high 15 kills versus Berry and followed that up with 12 kills versus Clearwater Christian.
Setter Katie Geary (Pittsburgh/Shaler), a junior, recorded 52 and 47 assists, respectively, in the two matches.
In the first match of the day, Oberacker tallied 13 kills, five digs and two blocks, and Amanda Ardinger (Moon Twp./Moon Area) totaled 16 digs and two aces.
In the win over Clearwater Christian, Roddy had eight kills, 12 digs and six assists while Ashley Zietak (Pittsburgh/Brashear) totaled eight kills and two blocks.
Defensively, Ardinger led the way with 33 digs in the nightcap while Margaret Gillooly (Cranberry Twp./Seneca Valley) had 16 and Alyssa Hall (Moon Twp./Moon Area) had 10.
Point Park's first-ever 20-win season came in 2007 with a record of 25-14. After going 19-18 in 2008, the Pioneers were 32-8 a year ago.
The Pioneers finished the weekend event with at least a share of the best record in the field. Like Point Park, Clearwater Christian was also 4-1, and St. Thomas took a 3-1 weekend record into its match against Berry. The result of that last match was unavailable.
The Pioneers return to American Mideast Conference play Thursday with an important home match versus Mt. Vernon Nazarene. Point Park will look to improve upon its 2-1 AMC record versus one of the other top teams in the league.
The last time the Pioneers and Cougars met, it was Point Park that upset No. 1 seed and host team Mt. Vernon Nazarene in the semifinals of last year's AMC tournament.